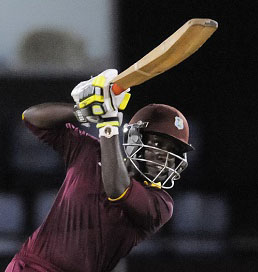 KINGSTON, Jamaican, CMC– It may have taken 30 Test matches, but West Indies captain Jason Holder believes he is finally beginning to reach his full potential.
The 26-year-old who made his Test debut four years ago, finished with career-best figures of 11 for 103, to help lead his side to victory in the second Test at Sabina Park over Bangladesh and a 2-0 series win, which helped the Windies climb to eighth in the ICC Test rankings.
The haul, the best by a West Indies captain on Caribbean soil, took his tally to 16 wickets in the two-Test series and earned him both the Man-of-the-Match and Man-of-the-Series awards.
Holder, who has played 34 Test matches, told reporters he felt he was now reaching his peak. "I just think it's coming together now for me. I'm 30-odd matches into my Test career and I've always remembered Clive Lloyd saying that he learned to play Test cricket after three years and that it took him three years to understand the Test game.
"It's good to see that the selectors have given this group some confidence in terms of sticking with them and I guess I am now getting into my own in terms of my cricket at the international level. I felt the skill level was always there, it was just a matter of putting it together and quite frankly, I think the surface really helped me in terms of my movement and conditions were in my favour pretty much in terms of this home series," Holder said.   The Windies captain said one of his main goals was to be fully recognized as a genuine all-rounder in the West Indies team. This he said would see him being promoted from his current position as a number eight or number nine batsman up to number six in the batting order.
"I would really say things are coming together for me with both bat and ball, although I would still like to be a little more consistent in terms of getting a few more scores, but batting down at number eight and nine it's quite difficult to post a healthy score unless I'm batting with the last recognised batsman.
"…My ultimate goal is to be in the all-rounder's position and be seen as a genuine all-rounder. Hopefully, with my performances the selectors will see and push me up," Holder said.
Around the Web