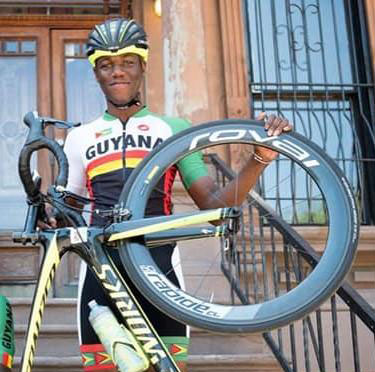 Twenty-one year old wheelsman, Romello Crawford is the only Guyanese cyclist who will be competing in the 2018 Central America and Caribbean (CAC) Games and is poised to make his presence and country felt when he takes to the track.
Crawford, who hails from the ancient county is expected to head over to Columbia this week but prior to that, he is currently training in Trinidad and Tobago.
Trinidad and Tobago is the most economical means of training for track racing since Guyana is yet to see any remote plans of developing a velodrome.
The lack of this continues to pose a problem for riders trying to develop their natural skills.
Nevertheless, The PSL/Trojan rider in an interview with Stabroek Sport, related that it has been three years since his preparation started in this division of the sport.
"Every year since 2015 I have been doing this [track race] in Trinidad," Crawford said, noting that he has been involved in the Easter Grand Prix hosted by the twin island republic.
Crawford added that he has gotten points on the track, qualifying him to compete in the event but due to the amount of energy taken on this division he will most likely not participate in the road race, if it is dated close together.
"If I could do road I will need to see the dates because track takes everything out of you." Crawford said.
Despite the hurdles of not having track and the expense to travel overseas and train, Crawford has raced the 250 metres twice and the 500 metres a few more times.
Crawford explained that he is currently working on bringing his fitness level to a higher standard in order to make his mark.
The young cyclist will travel to Columbia along with Joseph Briton as the two lone representatives for cycling and as part of Guyana's largest contingent to the CAC games.
Around the Web