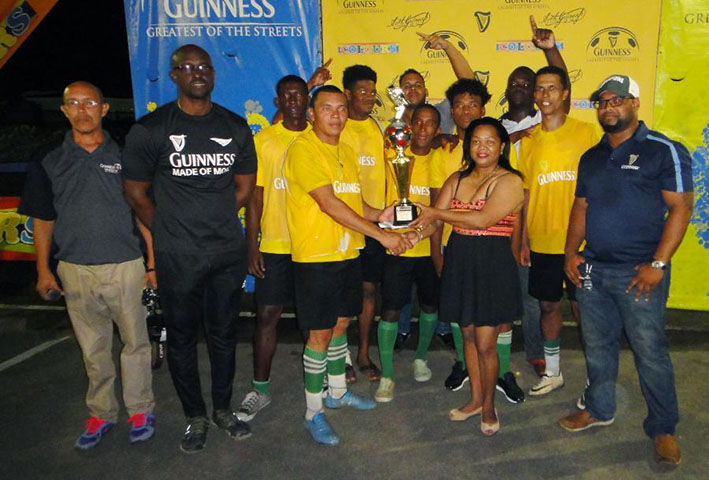 Disconnection Crew was crowned the new Guinness 'Greatest of the Streets', Bartica Champion, edging Goal-Raiders 1-0 on Sunday at the Bartica Community Center Tarmac.
Witnessed by a mammoth crowd, Brazilian Elcio Oliviera settled the cagey contest with a moment of brilliance in the sixth minute.
It was a goal that was celebrated loudly by their large fan base, as Oliviera slammed his first time finish through the legs of the final defender into the roof of the net, after collecting a right side pass from Clint Kellman.
With the win, Disconnection Crew pocketed $400,000 and the championship trophy. They also earned the right to represent the zone at the National Championship slated to start from July 27th.
On the other hand, Goal-Raiders walked away with $125,000 and the second place accolade.
In the third place playoff, Almanac Kings edged BLB Squad 2-1 on penalty kicks, after regulation and extra time ended 1-1.
The evergreen Ricardo Perreira bagged a brace for Almanac Kings in the sixth and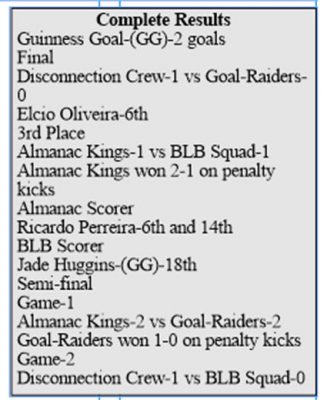 14th minute. For BLB Squad, Jade Huggins tallied a Guinness Goal (GG)-(A goal scored in the final three minutes of the match counts as two) in the 18th minute.
Due to the result, Almanac Kings copped $100,000 and a trophy, while the loser received $75,000 and a trophy.
In the earlier semi-final matches, Disconnection Crew edged BLB Squad 1-0, while Goal-Raiders downed Almanac Kings 2-1 on penalty kicks, after normal and extra time ended 2-2.
Around the Web