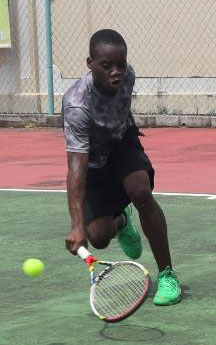 Sarah Klautky, winner of two Under-14 titles in Jamaica recently scored a tough three set win over Kalyca Fraser as the ninth Guyana Bank of Trade and Industry (GBTI)/ Guyana Tennis Association (GTA) tournament got underway on Monday with some exciting matches that saw the juniors taking center stage.
Klautky won the first set against Fraser 6-4 but was two games and 15-30 down when the rain interrupted the match. She eventually lost that set 0-6 love but bounced back to win the super tie breaker 10-6.
The tournament saw a number of walkovers after the opening ceremony where Director of Sport Christopher Jones served the first ball.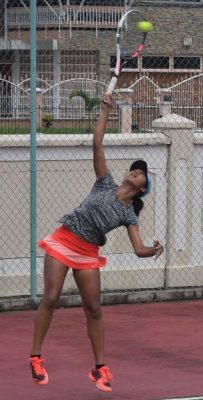 Vice President of the GTA, Robin Singh said that nothing can be done in the realm of sports without sponsors and thanked GBTI for its continued support.
Pamela Binda, Public Relations representative of GBTI noted the bank's stalwart dedication to the development of sports and vested interest in this event which has become an annual activity.
Jeremiah Kalekyezi received a walkover from Ariel Khan in the boy's singles while neither Akel Brown and Viraj Sharma who were scheduled to face each other showed up.
Philip Squires and Brian Ramsudh also did not appear for their men's singles showdown.
In the girls division, Klautky and Kalyca Fraser secured walkovers from Margaret Subryan and Nathalie Ramdyhan respectively while in a men's singles clash,   Devon Gonsalves received a walkover from Nicholas Glasgow.
In the men's singles, Ronald Murray defeated Joshua Kalekyezi in tight tussle. Murray won the first set 6-0 but lost the second set 5-7 before winning the third 6-3.
In the men's Over 35 category, Andre Lopes defeated Surindra Khayyam in straight sets, 6-0, 6-0 while in the mixed doubles, Leyland Leacock and Kizzy Richmond defeated Philbert Clarke and Diana Bart 6-0, 6-1.
Yesterday, Mark McDonald defeated the left handed Vadenand Resaul 6-4, 6-1 in a boys' singles encounter.
Speaking to coordinator of the tournament, Leyland Leacock, he explained that this tournament is expected to be one of the most exciting ones in recent times with a lot of the juniors coming off of overseas tours.
"Practically 85 percent of the juniors division were playing overseas and now they are back with a bit more experience so it will be exciting to see the contests," Leacock said.
Around the Web