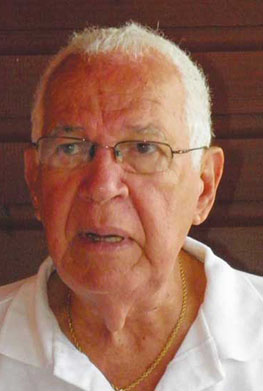 Legendary commentator and former Chairman of the Guyana National Sports Council and Organisation of Easter Caribbean States Sport Director, Joseph 'Reds' Perreira is set to tackle vital issues on his four-day stint in the Ancient County from tomorrow until  Sunday.
Perreira, who has been invited by the Berbice Cricket Board (BCB) and whose visit is being sponsored by NAGICO, is expected to conduct a wide-ranging programme aimed at identifying the needs in key aspects of development but will take a particular interest in the development of senior clubs and youths in the area.
While the BCB unveiled an itinerary for Perreira's visit, the aim is to see as much facilities as possible once Perreira arrives from the Eugene F Correia Airport.
He is expected to meet with BCB Secretary Rabindranauth Saywack and Coach Albert Smith before meeting with junior cricketers from the West Berbice area at the Blairmont Cricket Ground at 16.30 hours.
Later in the evening, he is scheduled to have dinner and discussion with the Berbice Cricket Board President and some of his executives. On Friday, he will visit the historic Port Mourant Cricket Ground before paying courtesy calls on the Regional Chairman.
At 13.00 hours, he will be involved in the presentation ceremony of the Rose Hall Town Youth & Sports Club 28th Annual Cricket Academy before visiting the Albion Cricket Club, where he is expected to speak to dozens of its members.
 Later in the evening, he will be the Guest of Honour at a Cocktail Reception.
The following day meetings are scheduled with BCB Executives and the Umpires Association while from 13.00 hours to 16.00 hours he will spearhead the hosting of an Administrative Seminar with all Clubs in Berbice at the St. Francis Training Centre.
On Sunday, Perreira will officially declare open the Berbice Cricket Board 2018 Cricket Academy at 09.00 hours before hosting a special educational session. The commentator has already confirmed a fundraiser for the BCB with the assistance of popular Guyanese performer, Dave Martins, who has agreed to play free of charge at a venue and date to be decided by the board. All minimal expenses associated with the Dave Martins band will be sponsored by Barons Foods Ltd.
Perreira has also received commitments from several associations to stage exhibitions in the months of August, September and October, and is especially grateful to boxing, rugby, table tennis, basketball, hockey and the bodybuilding associations who are committed to working with the Berbice authorities in staging the events. The Athletic Association has confirmed they will sponsor three 10Ks and possibly the same amount of 5Ks in New Amsterdam, Rose Hall and Corriverton.
Perreira said he hopes the cycling and volleyball associations will also agree to stage exhibitions in the Berbice area.
Around the Web