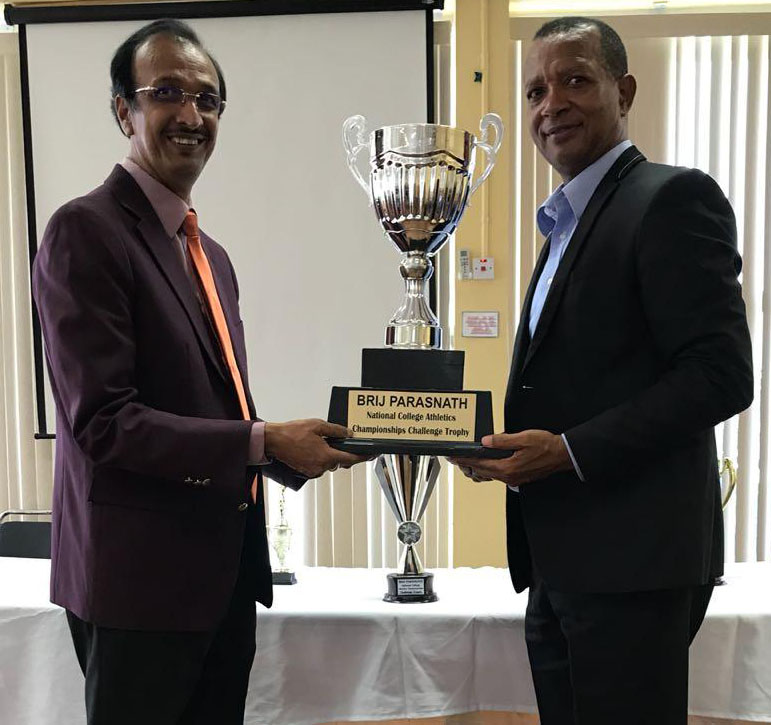 In excess of 100 top student athletes, including national sprint sensation Emmanuel Archibald, Owen Adonis and multiple CARIFTA Games gold medalist Chantoba Bright will be on show today vying for top honours in the National Colleges Athletics Championship (NCAC).
The inaugural event which gets underway from 14:00hrs at the National Track and Field Centre, will see fierce rivalry from athletes who attend the University of Guyana (UG), the Guyana Technical Institute (GTI) Guyana School of Agriculture (GSA) and Cyril Potter College of Education (CPCE) which was part of the first ever Guyana Institutions of Higher Education Athletics Championships on July 5, 1975 at the Police Sports Club ground, Eve Leary.
During the final press briefing of the event yesterday at the National Racquet Centre, Guyanese-born International Sports Commentator/Analyst, Brij Parasnath, stressed that Guyana can become a leader in Tertiary level athletic competitions.
Parasnath who was the former Head of the Physical Education Department at Bladen Hall Multilateral School and Bishops High, commended Aubrey Hutson, President of the Athletics Association of Guyana for taking the bold decision to launch the Championships which will cater for student-athletes who attends some of the highest institutions of learning in the country.
Parasnath congratulated Hutson, Laverne Fraser and other committee members for their diligence at getting the inaugural Championships ready for a big impact and outing today at the Leonora based facility.
The 30-event programme gets off to a fast start following the match past of twelve competing teams which will battle for the Brij Parasnath Challenge Trophy.
Meanwhile, Hutson revealed that both Ministers of Education Nicolette Henry and Minister of Social Cohesion, Culture, Youth and Sports in the Ministry of Presidency Dr. George Norton have given their full support and blessings for the Championships. Hutson also expressed his happiness at the large turn out of competitors that numbered over three hundred who were involved in the heats which took place two weeks ago at the same venue. Director of Sport, Christopher Jones also offered his solid support for the initiative and pledged his Ministry and NSC's future involvement to make the project a success.
Parasnath urged the sports-loving Guyanese to come out and provide the moral support for the talented athletes who will thrill with their talent as they seek the gain supremacy over their fellow competitors.
Parasnath, who was the founding-member/PRO of the Guyana Institutions of Higher Education Athletics Championships, thanked Hutson and his committee for giving rebirth to an activity that will help academically included athletes to further their athletic career at the tertiary institutions and also place themselves for scholarships at the highest level.
Around the Web