Wazim Habib, Head Curator at the National Stadium, Providence, said yesterday that the venue was in tip top condition as it readies to host two One Day Internationals (ODIs) between the West Indies and Bangladesh including its first ever day and night match.
Habib, who has been employed at the stadium as a curator for over 12 years, spoke to Stabroek Sport ahead of the first ODI between Bangladesh and the West Indies tomorrow.
"The team at the Stadium is up for the challenge," said Habib as they went about their business in a typical Guyanese laidback fashion, effortlessly getting the work done,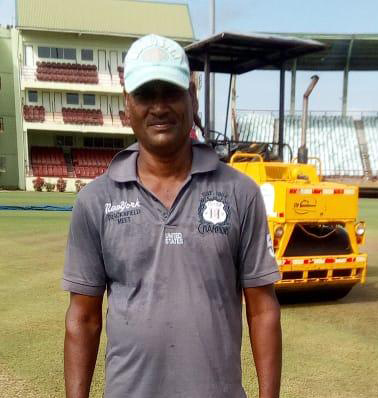 "When we start prepare the pitches it was a lot of rain and we tried our best to get it up to a good standard and we had about four or five days of good sun which is good," he added.
The stadium last hosted international cricket back in 2017 when Pakistan toured the Caribbean and according to Habib so far, "preparation is coming along very well."
Looking at the pitches, Habib said the first, to the west of the centre wicket, will be used along with the centre pitch tomorrow.
The pitches, he noted, were both used in 2017 when the highest total at the venue, 309/6 by the visiting Pakistan team, was made. Also two out of the five centuries were scored there.
"Both were used for the 2017 Pakistan series and got some good result and if we get nice weather is good," Habib said
The track which was visibly seen with some amount of grass on it.
"The pitch, we try to have as much grass because it help the groundsmen and we would like to have a good 100 overs in the day," Habib stated.
The pitch is likely to be a good batting track and the outfield lightning fast.
According to Habib, "it should be a better pitch for batting and assist the bowling with the outfield depending on the weather."
West Indies play Bangladesh tomorrow and Wednesday with tickets on sale at the Guyana Cricket Board. Green and Red stands are priced at $5000, Orange Stand set at $3000 and Grass Mount booked at $2000. Children Under 12 and citizens over 60 years of age will be admitted free of charge.
Around the Web