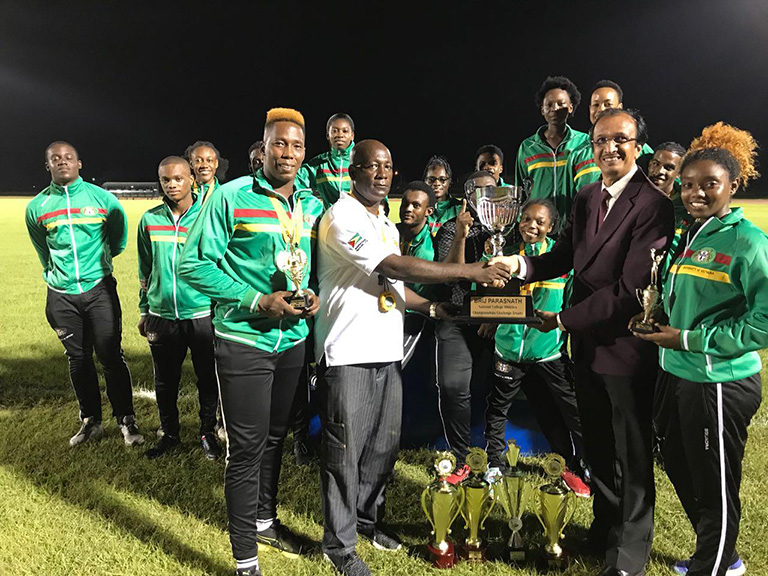 The track and field athletes of the University of Guyana (UG) schooled their counterparts to emerge winners of the inaugural Brij Parasnath National College Athletics Championships which was held at the Leonora National Track and Field Centre on Saturday.
According to a release from the Athletic Association of Guyana (AAG), the UG outfit proved too strong athletically and combined their efforts for an historic victory.
The release stated that there were many exciting duels and outstanding performances but the UG athletes dominated most of the events with Osafa DoSantos (UG) and Ruth Sanmoogan (UG) declared as Champion male and female athletes respectively.
Emmanuel Archibald (UG) and Chantoba Bright (Mackenzie High) were equally impressive in their respective specialties.
UG topped the twelve competing academic and Training Institutions and finished way ahead with 328 points.
They were followed by Leonora Technical and Vocational Institute with 100, Sophia Training Centre 77, New Amsterdam Technical Institute (NATI) and Vryman's Erven Training Centre joint fourth with 63, Linden Technical Institute 43, Cyril Potter College of Education (CPCE) 40, Mackenzie High School 36, New Amsterdam Secondary 23, Georgetown American University 18, St Roses High 17 and President's College.
DoSantos topped his male counterparts with 36 points. He won the shot put and discus and was second in the high jump and javelin while Sanmoogan as the leading female with 38 points. She registered a unique triple with victories in the 100, 200 and 400m events and was second in the long jump.
DoSantos threw the iron ball 15.13 metres and triumphed over fellow UG teammate Tramaine Beckles who heaved it to 13.64m while Rich Skinner (CPCE) was third with 12.98m.
DoSantos hurled the discus for winning distance of 37.92m but had to settle for second to Beckles in the javelin with a throw of 47.45m. Beckles won the gold with 54.58 m.
In the high jump, DoSantos cleared the bar at 1.70m for silver while Tortique Boyce of Leonora Technical Institute took the gold with 1.95m.
In the 100-metre dash, Sanmoogan was unchallenged and posted a winning time of 12.41 secs. She finished ahead of Tonya Rawlins (Leonora TI) 12.51 and Kim Chan (UK) 13.40.
However, in the 200m, Sanmoogan had to find extra gear and reserve to stave off the challenge of Rawlins and field event specialist, Chantoba Bright (Mackenzie High) who looked dangerous when she moved to front when they turned for the homestretch drive. Sanmoogan clocked 25.27 secs for the gold while Rawlins (25.66) and Bright (25.74) had to settle for the silver and bronze medals.
Sanmoogan (58.84 secs) was fully tested in the 400 metres but prevailed over UG teammate Kenisha Prescott (59.85) and Rawlins (1: 03.54).
Sprint sensation, Archibald did not contest the 100 metres dash which was won by his UG teammate Owen Adonis in 10.87s. However, the speedster showed his class with a comfortable victory in the 200 metres by cruising home in 21.49 secs ahead of Daniel Williams (21.59) and Adonis (21.83). He eased off the pace with 60 metres to go after he had blazed the first 100 and the curve to lead his rivals by over 10 metres as they straightened for the drive to the line.
Archibald followed with a long jump gold, disturbing the sand with a best leap of of 8.07. Anthony Carl Williams (Leonora Tech) 7.00m and Ronardo Greene (Linden TI) 6.40m finished second and third in that order.  Bright shone brilliantly with gold medal performances in the long and triple jump events. She registered 6.27 metres in the long jump and was engaged in a ding-dong tussle with Sanmoogan who had to settle for the silver with a leap of 6.04m.
Bright was just too good in the triple jump and claimed the gold medal with 12.23m.
She also won the high jump with a clearance of 1.67m and was the lone entrant and competed with the male athletes to register her mark. She would have gotten a bronze among the guys as she finished with equal height with third place Jesse Thomas of President's College and bettered Ronardo Greene of Linden TI) with 161m.
UG's Tamar Charles scored double in the Women 1500 (6 min. 14.49 secs) and 3000 metres (13: 47.05) with Cyril Potter College of Education's Renita Pedro as silver medallists in both events with times of 6: 16.26 and 14: 17.05 respectively.
Harvey Daniel (Leonara TI) also copped double gold in the male 1500 (4 min. 42.40) and 5000 metres (17: 39.40).second
Cindy Fraser (New Amsterdam TI) took double gold in the shot put (8.68m) and discus (27.48m) and silver in the javelin (19.26m) to Mikeyla Skeete (Sophia Training Centre) who won the gold with 19.31 metres.
Around the Web