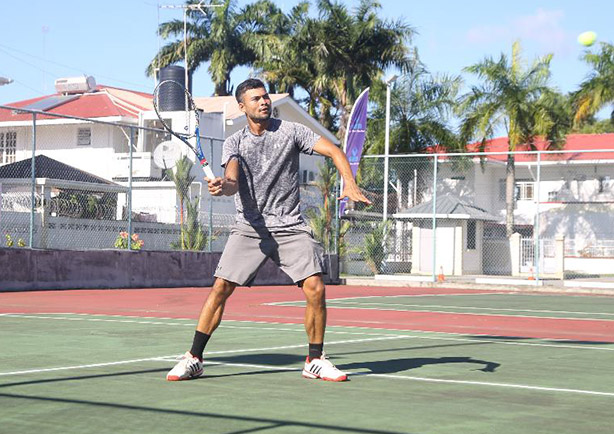 Seven-time Guyana Tennis Association (GTA)/Guyana Bank of Trade and Industry (GTBI) champion Anthony Downes moved within striking distance of the title once again, defeating Guyana's top male junior player, Heimraj Resaul in the semi-final of the men's singles at the GBTI recreational facility, Bel Air yesterday.
With the sun blistering, Downes injured his knee on the third point of the first set after leading two sets to love against the 16-year-old.
Resaul fought back with some nifty forearm play eventually winning two games but with Downes playing the more powerful shots, he easily won the next four games to win the first set 6-2.
The second set was grueling with both players feeling the extensive heat draining them. Like the first set, Downes moved two games to love but Resaul showed his aggressive spirit to win his first game. However he was unable to build on it, losing the set 6-1.
At the end of the match, Downes said it was basically a game of watchful play as he tried to dominate with top spin.
"I was just playing the game watchful, we had a few good games where he tested me but I know how they play having been around coaching them for a while," Downes said.
He added that his movement was limited after injuring his knees, forcing him to apply ice in the 90-second intervals consistently.
Speaking on his opponent, Downes congratulated the young man, noting that he has shown vast improvement especially with his fitness and movement.
Meanwhile, Johnathon Fagundes will make his maiden final in the tournament after defeating Devon Gonsalves in a highly energetic encounter. Fagundes took the first set 6-2 but Gonsalvez rallied well to win the next set 3-6. Fagundes held his nerve in the final set winning 6-4.
Also in the night's play, Resaul partnered with Kalyca Fraser to defeat Kizzy Richmond and Leyland Leacock 6-4, 6-4 in the mixed doubles final.
Aubrey Younge earned himself the men's 45 year and over title after Anthony Amerally failed to show up and continue their encounter from the previous night where Young lost the first set 5-7 but won the second set in the tie breaker.
Around the Web