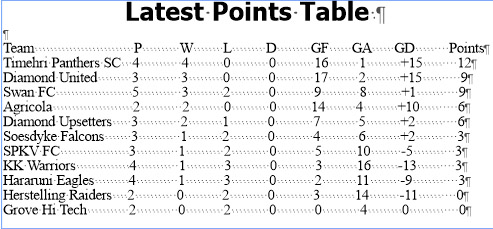 Agricola Red Triangle, Diamond United, Soesdyke Falcons and Swan FC secured lopsided wins when the East Bank Football Association (EBFA)/Juicy Juice U13 League continued Sunday at the Timehri Red ground.
Agricola Red Triangle crushed Herstelling Raiders 7-2. Eon Daniels smashed five goals in the 10th, 14th, 18th, 41st and 52nd minute. 
Adding goals in the fifth and 22nd minute were Floyd Boyce and Jonathan Andries respectively. For the loser, Ofancy Winter scored in the 45th and 56th minute.
 Similarly, Diamond United swamped Kuru-Kururu 7-1. Shakem Welcome registered a hat-trick in the 33rd, 49th and 60th minute while Ronaldo Adams bagged a brace in the third and 11th minute.
Rick Ramotar and Shaquan Joseph added goals in the 40th and 48th minute respectively. On target in the loss was Cleon Jardine in the 45th minute.
Soesdyke Falcons downed Samatta Point/Kaneville 4-2. Malachi Leacock recorded a hat-trick in the 26th, 31st and 49th minute, with Aubrey David scoreing the final goal in the 56th minute.
For the loser, Erin Fredericks and Akeem Francois scored in the 18th and 38th minute respectively.
Swan downed Diamond Upsetters 4-2. Murphus Andrews, Ezekiel Baptiste, David Loncke and Merwyn Loncke scored in the 19th, 27th, 45th and 57th minute each.
Shaquen Gilkes and Izia Henriques scored for the loser in the 13th and 16th minute apiece. The league continues this weekend at the same venue.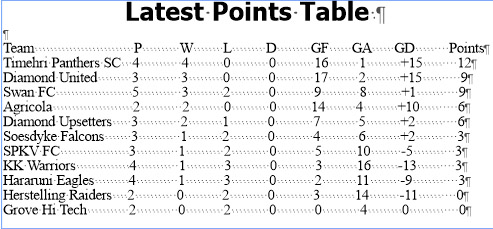 Around the Web