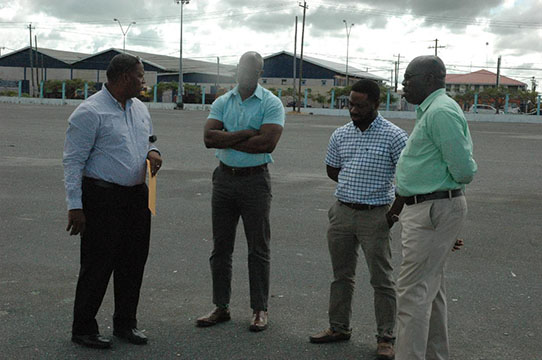 In less than 48 hours, the opening night of the Guinness 'Greatest of the Streets' National Championship will be staged at the Pouderoyen Tarmac, West Demerara.
The first of three nights is expected to set the tone for the pulsating championship as fans will finally get the opportunity to witness the best teams from the respective communities battle for the Holy Grail of street-ball.
The second night of the national street phenomenon will be staged at the Haslington Market Tarmac on August 1st [Emancipation Day], with the grand finale set for the impressive National Stadium, Providence.
The decision to stage the event at the national venue is being praised by many fans, players and pundits, as a way of improving the image and building the format, which is in its ninth year.  
In terms of success, Georgetown has led the way with five championships from the trident of Sparta Boss, Back Circle and Tiger Bay. The other titlist is defending champion Dave & Celina's All-Stars, a product of the Mining Town of Linden.
The fact that the national title is no longer in the hands of a Georgetown team, regarded as the traditional powers, is enough evidence to suggest that this year's battle for supremacy will be enthralling, with no clear favourite in sight.
The feedback from the respective camps is that teams have been training assiduously in their aim to secure the coveted title, with many fancying their chances of engraving their name on the accolade.
Following Dave & Celena's All-Stars triumph last year, it is felt that the intimidation visiting teams experienced playing against Georgetown opposition has disappeared and they believe that any team could rise to the occasion.
On the other hand, with Georgetown's aura slightly dented, other zone winners will feel inspired by the Lindeners performance and raise their level of play as well to ensure that the trophy goes elsewhere.
Below features the complete list of fixtures for the opening night.
Complete Fixtures
West Side Ballers vs Silver Bullets-19:00hrs
ESPN vs Disconnection Crew-19:30hrs
Leopold Street vs Dave & Celena's All-Stars-20:00hrs
Showstoppers vs Swag Entertainment-20:30hrs
ESPN vs West Side Ballers-21:30hrs
Silver Bullets vs Disconnection Crew-22:00hrs
Swag Entertainment vs Dave & Celena's-22:30hrs
Showstoppers vs Leopold Street-23:00hrs
Around the Web