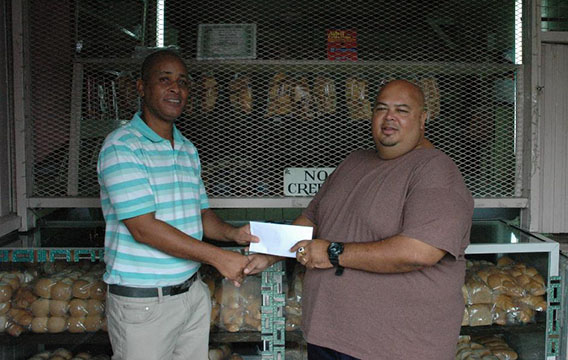 Yhip's Bakery of Alexander and Robb Street, threw their support behind the 2nd Annual Guinness Cage Street-ball Competition, donating an undisclosed sum on Monday at the entity's location.
The Bakery Establishment which has been in existence for more than 70 years, is synonymous with sports development and their goodwill is another example of the entity's longstanding appreciation and affection for the respective disciplines
.Making the presentation on behalf of the company was rugby coach Troy Yhip, who presented the cheque to Principal Rawle Welch.
Welch during brief remarks said, "I have known Troy for a number of years and we've always been close and I was always confident that I will receive some level of support for the tournament from him. He is a guy that loves to see sports move in a positive direction and he knows that the tournament is one such event that is geared to help foster better relations among the communities as well as advance the development of the shorter version of the sport."
The five day event which is dubbed the 'East Coast Best versus the Rest', will feature 24 teams from the environs of Georgetown, Linden, West Demerara and East Coast Demerara. 12 of the participants will emanate from the East Coast Demerara region.
Clarks footwear giants Chetsons and Trophy Stall have already pledged its support, while commitment of support has come from Queensway Security Services, E-Networks Inc., KSM Investments, Yhip's Bakery, Brass Aluminum & Cast Iron Foundry (BACIF), Ray's Auto Sales, Y.K. Investments, Woodpecker Products, National Sports Commission, 'C' Division of the Guyana Police Force, Julius Variety Store, C & C Prestigious Styles and and Attorney-at-Law Roysdale Forde.
Around the Web