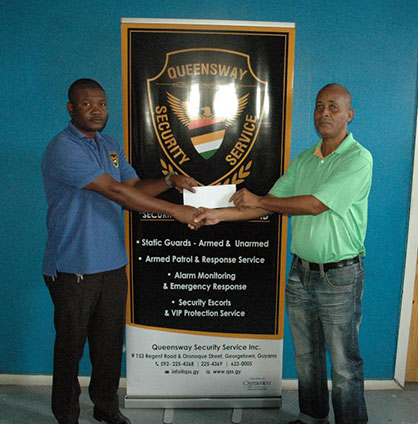 Renowned for its unparalleled delivery of services in the security sector, Queensway Security Services joined the growing list of sponsors to support Three Peat Promotions coordinated Guinness Cage Street-ball Championship.
The simple but significant presentation ceremony was held at the entity's head office on Oronoque & Regent Streets on Friday.
Clay Flatts, Operations Manager of the enterprise made the presentation of an undisclosed sum to principal of Three Peat Promotions Rawle Welch. This occurred in the presence of Chief Operations Officer [COO] Lancelot Khan.
Flatts, a former standout footballer and administrator, applauded the promoters for their continued efforts in developing the sport. He urged that they execute the event with professionalism and discipline, traits that are hallmarks of the company.
Meanwhile, COO Khan declared that his intention is to understand the sport, adding that he will be visiting the venues to witness the matches. 
Also, Welch thanked the company for their significant support at the Promotions first call, adding that it signals the seriousness of the organization in helping to develop sports and cohesion among the various communities that the participating teams emanate from.
He said unlike many other corporate entities that prefer to wait and watch a product develop before getting on board, Queensway Security Services has led the way in helping to create, develop and establish a brand.
According to Welch, "I have to say that Queensway Security Services is a shining example of what corporate responsibility is and should other entities duplicate their deed then sports and athletes will be able to strive."
The Company provides a range of security services including Static, Armed and Unarmed Guards, Armed Patrol, Response Services, Alarm Monitoring, Emergency Response, Security Escorts and VIP Protection Service.
The five-day tournament dubbed 'the East Coast Best versus the Rest' commences on August 8th at the Haslington Market Tarmac. The remaining playing dates will be staged at the same venue on August 11th, 18th, 25th and September 1st.
Twenty-four teams will contest the competition with a minimum of twelve chosen from East Coast villages. The remaining participants will emanate from the area of Georgetown, Linden and West Demerara.
Every night there will have a winner among the fans and this will be awarded to the fan that buys the most buckets of the sponsor's beverages.
The other entities that have pledged their support thus far are Banks DIH under its Guinness and Power Wine brands, Clark's footwear giants Chetsons, E-Networks Inc., KSM Investments, Yhip's Bakery, Brass Aluminum & Cast Iron Foundry (BACIF), Ray's Auto Sales, Y.K. Investments, Trophy Stall, Express Shipping, Woodpecker Products, National Sports Commission, C-Division of the Guyana Police Force, Attorney-at-Law Roysdale Forde, Julius Variety Store and C & C Prestigious Styles.
Around the Web