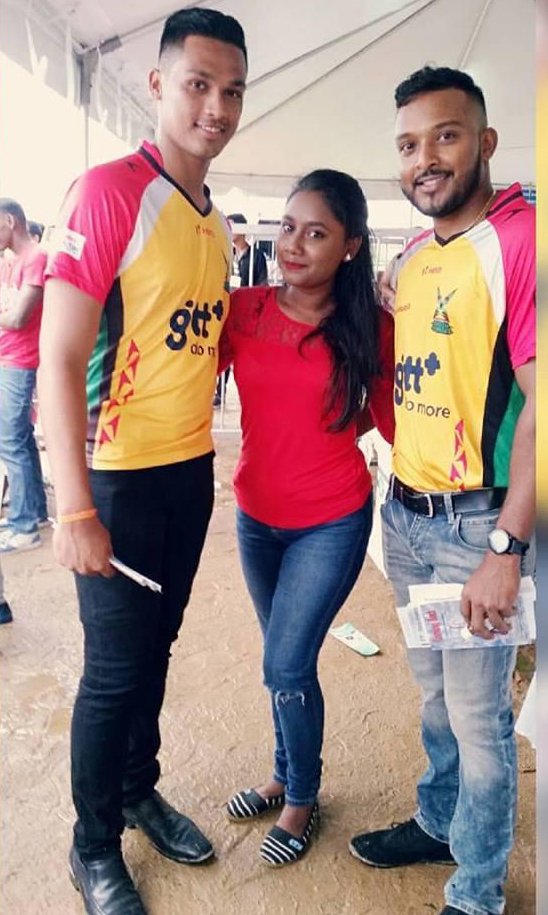 Akshaya Persaud exemplifies waiting your turn and working hard to achieve your goals as he eagerly awaits his chance to make an impact in Guyana Amazon Warriors team as they venture towards their maiden title in the 2018 Hero Caribbean Premier League (CPL).
The 21-year-old began his journey as a 17-year-old when he was first exposed to the Warriors' set up and stayed there for three years before moving out of the Under-19 category.
Last year, Persaud was with the team as a practice bowler but this year he was snapped up in the final round of the CPL draft and now becomes a full member of the Warriors' unit.
For the Cornelia Ida resident, its all about keeping it simple and like his calm and collective personality, his training is no different as he works on the basics such as batting in the nets and gym sessions even prior to the encampment of the team.
The Everest Cricket Club first division captain is also making use of the vast amount of experienced personnels who consistently assist him in bettering his game, living up to the guyanese proverb of "it takes a village to raise a child."
With basic skills the strength of anything, Persaud who features as a unique allrounder, batting left hand and bowing left arm spin, couple with his ability to adjust to situations, his addition to the team will boost the composition as well as aid in the balance.
"I describe my game as a very simple one, I stick to the basics being an all rounder in the team and this will benefit the team in both aspects so I'll perform to the best of my abilities and do whatever is required of me to help the team succeed." Persaud said.
His time in the past with team also makes him a valuable addition since he knows what is required and earned himself quality experience from rubbing shoulders with big name players.
"I've gained a lot from the previous years with the team. I've learned a lot from both the international and regional players. The trainers are very hardworking and also motivative at the same time. Being in the actual team this year with players who I've looked up to is a good boost to my career. I'll learn as much as I can from my teammates and implement it in my game." the Warrior said.
This year, Persaud believes the tide is in favour of the Warriors with the composition of youth and experience as well as the many changes, not to mention five home games.
"We've a good combination of both youth and experience. With that be every player are match winners in the team and once we stick to the team plan then we'll be victorious. At the same time we need to take it game by game and don't be complacent." Persaud added.
The left arm spinner noted that the home games will put them in a strong position to finish in the top four and with the two playoffs set in Guyana, it is also a boost to play that in front of their home.
"Also we have five home games this year, definitely it'll help us. Throughout the years the support has been fantastic. I can't remember any CPL game at the stadium that hasn't been sold out. Once we win our five home games that will boost us on the points table and once we qualify for  the qualifier then we'll have home advantage again. With all of that being said there's no room for complacency." Persaud expressed.
Looking at the captain, Persaud noted that Shoaib Malik is one of the stars he looked up to growing up and is excited to play alongside him.
"Shoaib is a good player. He's one of the best batsman playing all three format of game. He's also a good off spinner. He's a good limited over all rounder. I'll be looking forward to share the same dressing room with him and work along with him." The Everest Cricket Club captain said.
Also, with South African Johan Botha taking up the mantle as Head Coach and Rayon Griffith his Assistant, Persaud believes the two can get the job done for the Warriors.
"I've looked at Johan Botha playing international cricket since I was small and he's a good all round cricketer while Griff [Griffith] is a very hard working coach and he always pushes you to perform better." Persaud explained.
CPL begins on August 8 and runs until September 16 with Guyana hosting five home matches and two playoffs.
Around the Web