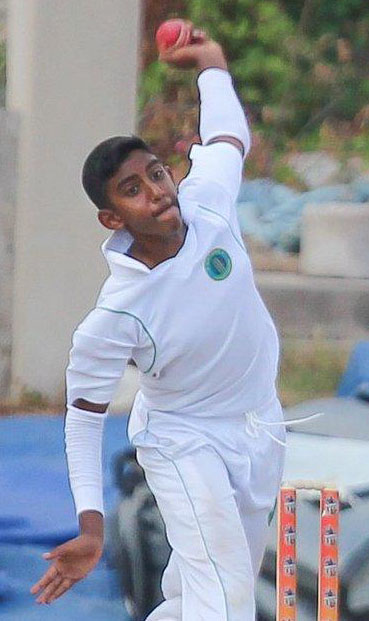 Left-arm orthodox spinner Zachary Jodah bowled superbly to see Georgetown Cricket Club (GCC) race to a 47-run win over Everest Cricket Club in their Under-17 showdown on Saturday.
Everest won the toss and sent GCC into bat and they were bundled out for 126 in 30 overs, five short of their quota. Sanjay Persaud and Thaddeus Lovell both stroked 21 runs as Aaron Beharry ripped through the top order to return figures of 4-23.
In reply, Everest were rolled over for 80 inside 23 overs with Ushardiva Balgobin partnering with Ariel Tilku to put on 40.
However, the partnership was not enough as both batsmen fell for 32 and 33 respectively.
Jodah, a national player, was the main bowler picking up 4-17 while Aryan Persaud snapped up 2-17.
GCC followed up their exploits on Saturday but were unable to stop a resurgent Ogle U-17 on Sunday at the same venue, losing by 17 runs.
GCC won the toss and decided to field as Ogle lasted 35 overs to post 130 all out. Davanand Khemraj was the top run getter with a solid 28 while support came from Andrew Samaroo with a spirited 17.
Darius Andrews and Jodah each picked up 3-24 while Persaud claimed 2-18.
In reply, GCC were dismissed for 113 in 33 overs with Rivaldo Phillips smashing 30 and Sanjay Persaud contributing 16.
Michael Pooran bagged 4-20 while Man-of-the-Match Rudranauth Kissoon snatched 4-13 and Brian Singh 2-12.
Around the Web