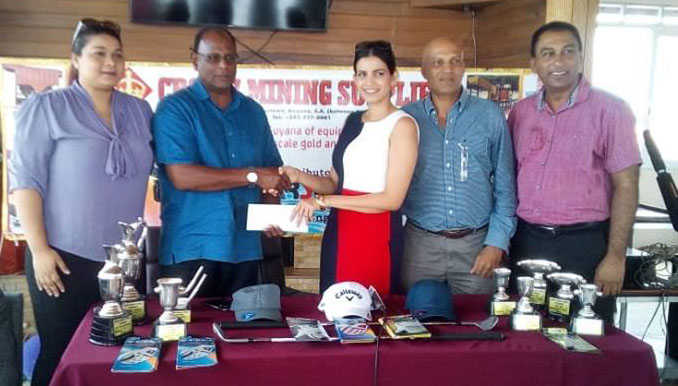 Patanjalee "Pur" Persaud is among the favourites to contest the Crown Mining/Parsun Motors Emancipation Day golf tournament at the Lusignan Golf Club tomorrow.
"This is the continuation of a partnership between the LGC and Crown Mining with the future of Crown Mining here to hopefully carry us into the next two decades," said president of the LGG Aleem Hussain.
Director of the company, Nadine Persaud noted that Patanjalee Persaud and Max Persaud, both of whom are associated with the Mining Company, have very good chances of winning.
Patanjalee Persaud won the title back in 2016 when the tournament was last held. Avashti Persaud, also a director of the company, wished the golfers good luck and pointed out that the company was very pleased to be associated with the sport and looked forward to the collaboration every year.
He added that it was surprising that golf was not one of the more popular sports in the country but suggested that it was well on its way to becoming one with the support from the mining company.
Treasurer of the LGC, Aasrodeen Shaw, said it was a blessing to have the company's support while venturing to say it is his vision that other companies can come on board with LGC and lift the sport.
Hussain added that there will also be special prizes where the club is backing their golfers.
Any non-golfer who can hit the ball further than their top four golfers will win $100,000.
The top four golfers including Patanjalee Persaud, Avenash Persaud, Richard Haniff and Nazeem Haniff will have their names placed in a bag and the challenger will pull a name to face. Also there will be one Parsun Outboard engine up for grabs for anyone who hits a hole in one. Patanjalee Persaud, who is coming off an injury, said golf is a bit of skill but also a bit of luck as he sets to retain his title. Max Persaud also stated that he will be aiming for the title but will be wary of the challenge that is before him with a lot of the players being in good form recently.
Around the Web