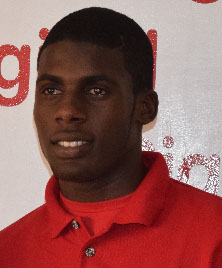 Fruta Conquerors star and Golden Jaguars international Jeremy Garrett has secured a football scholarship to Southeastern Conference (SEC) giants Louisiana State University (LSU).
Wayne Forde, President of the Guyana Football Federation (GFF) said, "I am very pleased on behalf of the executive committee of the GFF and the wider football fraternity to announce that young Jeremy Garrett has been able to secure a scholarship with the Louisiana State University Scholarship programme."
According to Forde, "And if I can offer some background, almost five months ago the GFF started a level of engagement with coaches within the university structure of the United States and we determined that some players we be challenged to access opportunities in some of the higher ranked universities while others might be suited for community colleges and academic institutions of that level."
He added, "The technical department has been working very hard over the past couple of months to present Jeremy's case and we were finally able to do it. The federation was required to offer certain assurances on behalf of Jeremy but in the final analysis, it is pleased to us that Jeremy will be able to access this opportunity. I think Jeremy will be leading the charge for many young players that will be following him subsequently, the goal of the federation is clearly to open up these opportunities for as many young players as possible.
"One of the sad realities of football is that the percentage of players that go onto the professional level is less than one percent of the total body of football. The other sad reality of football is that the playing career of a players don't extend 34, 35 years. An individual has their entire life ahead of them after those years so the fact that Jeremy will now be in an institution where he will be given a world class education that he will certainly use for the rest of his life is something that we are all very proud of. So Jeremy congrats, make us proud and do well."
Daniel Thomas, Secretary of Fruta Conquerors said, "At Fruta Conquerors we are overwhelmed by the possibility of Jeremy attending Louisiana State University. His journey has been long but Jeremy's been dedicated to the cause. It would be remiss of me not to mention Chase Academy in this process too as well because we feel strongly that if it was not for the intervention of that school, I don't think Jeremy would have been able to secure the scholarship in terms of the academics. As such we as a club would like to encourage all youngsters who maybe in high school or currently preparing to go High School to be as dedicated as Jeremy was or currently still is. "I hope and pray that he makes full use of the scholarship opportunity, I know as long as he stays the course he will be successful and I am sure the hope is that he will be able to elevate himself over there to move from that university to an even higher ranked university before his tenure is finished in the US", he said.
Garrett in reply, stated, "I would like to give a special thanks to the Almighty God.
"Mr. Thomas, that he doesn't believe it would have happened without Chase Academy, well for me it all started with balancing the academics and sports at my own club.
"We ran a summer programme every year or used to and I think that is where it started for me. I am thankful for the opportunity presented to me, I will look to make full use of it and make Guyana proud and move forward to the next level from there."
Around the Web