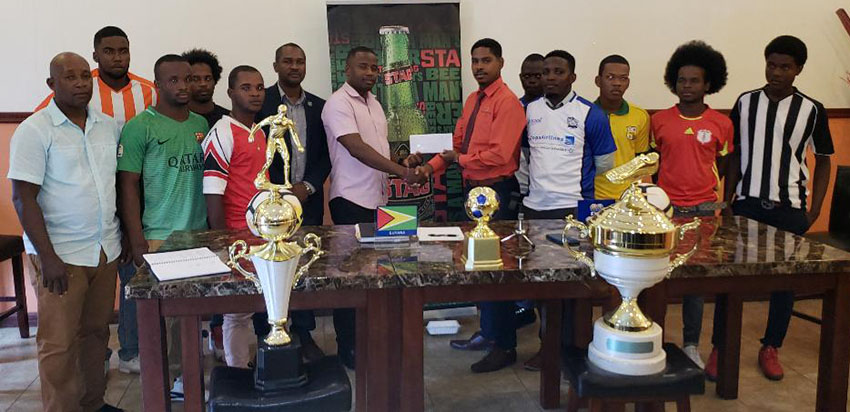 Following months of inactivity the Georgetown Football Association (GFA) under the recently appointed IMC, launched the Stag Beer Revival Cup yesterday at the Sleepin International Hotel, Brickdam.
The event, which is set to commence on August 12th, will feature 16 teams from under the umbrella of the GFA and the U20 teams from Elite League clubs Buxton United, Fruta Conquerors, Guyana Defence Force (GDF) and Western Tigers, battling for a top prize of $500,000.
The GFA teams are Northern Rangers, Pele, Riddim Squad, Beacon, Black Pearl, Guyana Police Force, Camptown, Eastville, Santos, Flamingo, Georgetown Football Club (GFC) and Order of Disciplines.
The GFC ground will be the venue for the 56 matches to be held over the course of 16 days.
Trevor Williams, Chairman of the GFA IMC said, "it's part of our mandate to see football played again in an organized, and of course sustainable manner in Georgetown, so competitions are going to be high on our agenda."
He added, "We wish to thank the GFF also for playing an integral role, and of course Stag Beer for coming on-board with this Revival Cup. The work of the IMC is cut out and at this time I wish to say that we're very happy to have started this process and have football being played while we continue to work to sort out and stabilize the issues in the GFA."
GFF president Wayne Forde declared, "We can all agree that football in Georgetown has long been overdue.
It is pointless for us to get into the reasons why we are at this stage, but what I think we should do is concentrate our energies in developing a sustainable programme over the next couple of months, over the next couple of years.
"It takes a leap of faith for a sponsor to come into an environment that has been dormant for this long. Many may question whether there is any commercial value existing any longer in the GFA football set-up. I dare say yes, there is. But it would require the collective effort of all of the stakeholders, more so the clubs, the players and the officials. We have to deliver a product that is worthy of the investment Ansa McAl has committed and the investment the Guyana Football Federation will make."
Around the Web