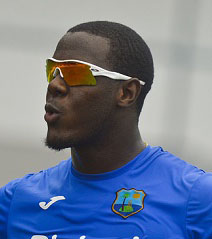 West Indies captain Carlos Brathwaite was in high praise of his team in what he says they executed a "professional performance."
After winning the first of the three match T20 International series against Bangladesh at Basseterre on Tuesday night, the 26-year-old all-rounder said it was all about sticking to the plan and executing as they exemplified.
"We stuck to our guns, we stuck to our plans I think we were very disciplined and we executed the plans we wanted very, very well." Brathwaite said.
With rain reducing the match, the captain noted that it was all about match awareness and keeping an eye on the rain, saying. The boys were pretty relaxed we just needed someone to go outside once in a while to see if the rain was falling and kept relaying that information having one eye on the game and as soon as we knew the target it was just a matter of going out there and doing it."
In assessing the performance, the Windies skipper noted that the batting should be commended especially Andre Russell and Marlon Samuels who saw things through. He suggested that they were not given enough credit for the way they played the game.
"A professional performance with the bat, Russell getting promoted to number 3 and having that exceptional performance and finishing the game and you know I think we are not given enough credit for the way we play our cricket and the professionalism we show with the bat. Marlon's knock was fantastic after losing two early wickets and Russell stayed and finished it, Rovman [Powell] at the end put the cherry on the cake," he said.
Brathwaite was confident enough in his batting order to say "we could chase anything they set and you know the gusto the boys went out there with I can't say was the best showing but in the fielding effort they threw themselves around and saved some runs."
Judging the bowling performance, the Barbados-born leader was also crediting that to be professional while also commending Bangladesh for their efforts to post that total after being four down early on. "It was a professional performance with the ball, credit must go to Bangladesh to sticking it out and batting all 20 overs and even getting close to a respectable total from being 40 odd for four so I think from a bowling side of things we were very professional and the fielding only added to that professionalism.." he stated.
Looking at the next match in Florida on Saturday, Brathwaite said "at the end of the day one couldn't ask for anything more but to just replicate it in Florida.
"We're aiming to field well and have our intensity up and hope the bowlers hit their mark every time they are called upon."
Around the Web