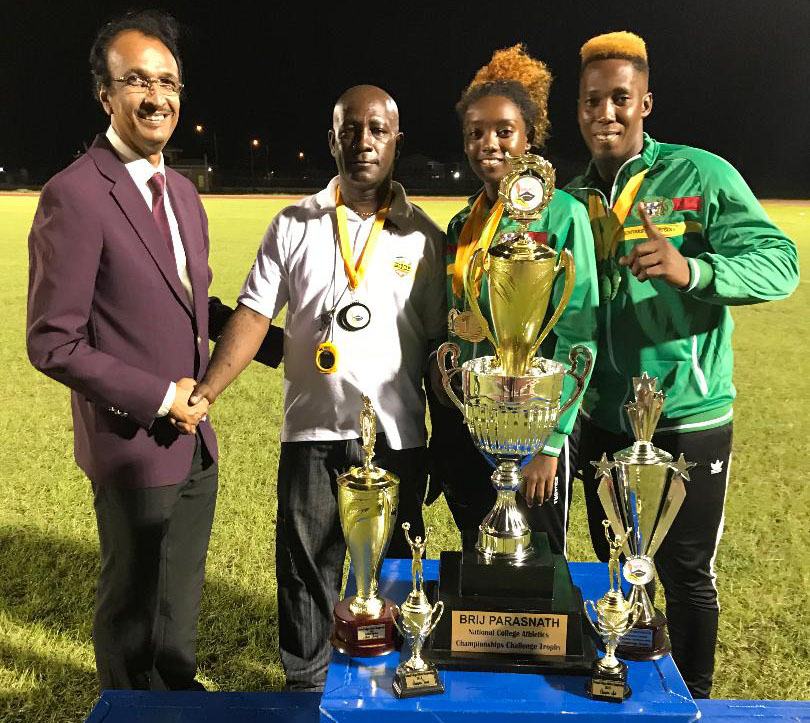 Brij Parasnath, International Sports Commentator/Analyst is calling upon student-athletes to learn to strike a good balance their studies with their athletics career in their pursuit of excellence at the higher levels.
Parasnath delivered the feature address at the opening ceremony of the recent inaugural Brij Parasnath National College Athletics Championships which was held at the Leonora National Track and Field Centre.
He exhorted the student-athletes who participated in the historic Championships to train hard, be focused but more importantly not to postpone assignments.
Parasnath, former Head the Physical Education Department at the Bladen Hall Multilateral School (1977, September-1980, July) and Bishops' High School (1980 to 1982); stressed the need to complete assignments on time and ensure that they are submitted to their lecturers so that the student-athletes will graduate successfully and with flying colours.
He said: "All of you need to balance your studies with your athletics and sporting careers. Do not postpone your assignments. Do not postpone your success. Make it a point of duty to complete your assignments as quickly as possible and not allow them to roll over to the weekend when you are most likely to be involved in your athletic activities. By completing them on time, you will ensure that you will earn top grades for course work assignments and eventually graduate successfully with full certificate and distinctions. Many others have achieved top marks academically while they excelled in major sporting disciplines. If they did it, you too can also achieve excellence too."
He explained how the dream of Tertiary InstitutionscChampionships started at the Cyril Potter College of Education in 1975. Parasnath expressed his sincere gratitude to Aubrey Hutson and other officials of the Athletics Association of Guyana (AAG) as well as from the other Tertiary Institutions to have given rebirth to a dream which was designed to cater for the advancement of secondary school student's athletics careers at the higher levels.
He expressed hope that there will be a physical education teacher in each school in the country, especially at the secondary school level where the athletics and sporting abilities of the nation's children can  be nurtured and allowed to bloom.
Parasnath says that he envisaged that Guyana can become the leading country when it comes to tertiary level sports in the Caribbean.
Although he migrated to Trinidad and Tobago, Parasnath  had served in a dual capacity as President and Head Coach of the Striders Athletics Club which was the most dominant Club in Guyana between 1977 and 1982. The club won most of the Senior and Junior Championships, cross-country races, road relays, track relays, 5ks, 10ks and half-marathons and its athletes dominated events at all levels. Parsnath was one of  Guyana's leading athletic coach before he left for the twin-island republic. He had served as the successful Manager/Coach for Guyana teams at the Inter-Guiana Games 1973 (Guyana's first ever athletics victory over Suriname), Carifta Games 1978 (The Bahamas) and Hampton International Games (1980).
Parasnath also emphasized the need for student-athletes to be disciplined, dedicated and to strive to be the best.
He said:  "it's important to make the necessary sacrifices and eventually you will be rewarded with successes, both academically and on the track. Stick to it and you will be successful in your examinations and achieve glory on the track."
He also implored the parents present to continue to invest in their children's welfare, both academically and sportswise; and offered special congratulations to the hard-working Hutson (President of AAG) and Lavern Fraser-Thomas  as well as their dedicated team of officials for the wonderful job they did in staging the historic National College Athletics Championships that will allow the nation's best youthful talent to pursue their goals of excellence in academics and athletics.
Parasnath also singled out the coaches for special mention and congratulated them for their dedication in shaping the athletic careers of the nation's budding athletes.
He stated that: "with the successful staging of these Championships, Guyana will now have a bigger cadre of outstanding athletes to choose from to represent it at the higher level Games- like CAC, Commonwealth, Pan-American and Olympics."
The University of Guyana (UG) with 328 points emerged triumphant among the 12  institutions that competed in the finals of the 30-event programme and registered the first lien on the Brij Parasnath National College Athletics Championships Challenge Trophy.
Overall, 21 Educational and Training Institutions participated in the heats and trials.
At the finals, there were many hotly contested races and there were thrilling finishes but UG was just too powerful for their rivals and dominated most of the events.
 UG's Osafa Dos Santos (36 points) and Ruth Sanmoogan (38 points) were crowned 'Champion Male' and 'Champion Female' athletes respectively.
There were other outstanding performances from Mackenzie High's Chantoba Bright who won three field events (high jump, long jump and triple jump) and was third in the 200 which was won by Sanmoogan who made a clean sweep of the 100, 200 and 400 titles.     
Around the Web