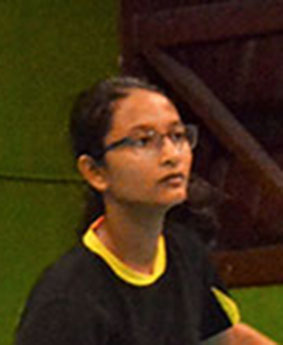 Priyanna Ramdhani's impressive run in the Central America and Caribbean (CAC) Games 2018 came to an end in the round of 16 of the female badminton singles while her fellow countryman, Emmanuel Archibald, missed out on a medal in the men's long jump as Guyanese showcased their skills in athletics yesterday.
Ramdhani, Guyana top female player went down 0-2 11-21 and 5-21 to Mexico's Martinez Solis in the round of 16.
The 16-year-old had advanced to the round of 16 by eliminating Panama's Nathalie Fedney 21-13 and 21-11.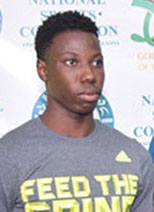 She then partnered with her brother, Narayan to defeat the Barbados pair of Damien Howell and Tamisha Williams 20-22, 21-17 and 21-19 to move on to the round of 16 of the mixed doubles but were eliminated in that round by Cabrera William and Bermary Polanco of Dominica Republic 2-1.
The Guyanese men had a rough run in the singles contest with both Jonathan Mangra and Narayan Ramdhani failing to make it past the first round. Narayan Ramdhani lost to Jamaica's Gareth Henry 2-0 while Mangra took the fight to Costa Rica's Rojas Hurtado in a contest ending 2-1.
The two Guyanese also lost the men's doubles 2-0 to Cesar Brito and Reymi Cabreras of the Dominica Republic.
Meanwhile,  Archibald narrowly missed out on a medal in the men's long jump finals where he finished fourth with a leap of 7.83 metres which accounted for his season's best. The event was won by Ramone Bailey of Jamaica (8.07m) while Bermuda's Tyrone Smith (8.03m) and Trinidad and Tobago's Andwuelle Wright (7.94m) took second and third respectively.
On the track, Winston George recorded his season's best time in the 200 metre heats, copping third with a time of 20.45 seconds behind Columbia's Boloyes (20.04) and Jamaica's Rasheed Diwyer (20.37). George, however, was disqualified for false start in the semifinal.
In the 200m female semifinal, Jenea McCammon placed fifth to better her personal best time she set in the heats in  clocking 24.02, exactly one second behind first placed Shashalee Forbes of Jamaica
McCammon also took seventh place in the female 100m hurdles finals, stopping the clock at 13.40 seconds.
Around the Web