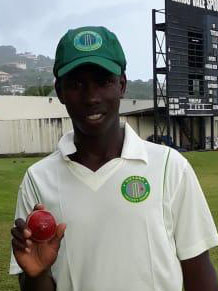 Kevin Sinclair's 4-19 rattled the Leeward Islands who fell for  116 allowing Guyana to take control of the first day of the first round of the Cricket West Indies Regional U19 three day encounter in  St Vincent and the Grenadines yesterday.
At the close of the first day's play Guyana, in reply, were 58-2 with Sachin Singh not out on 23 and Captain Bhaskar Yadram not out on three.
The wickets to fall were those of opener Alex Algoo who was bowled by Javin Spencer for 14 from eight balls and Joshua Persaud. At one stage Guyana were coasting on 48-1 before rain interrupted the contest, leading to and early tea.
Upon resumption Guyana lost Persaud to Spencer for a 19-ball 18.
Earlier, the Leewards won the toss and elected to bat but found it hard to deal with the defending champions' opening bowlers. Seamer Joshua Jones had Jelani Manners nicking to wicketkeeper Joshua Persaud. He then disturbed the stumps of Mikyle Louis before Qumar Torrington had Uri Smith playing into the hands of Kevlon Anderson at point to leave Leewards 26-3. Sinclair began taking regular wickets including those of Demari Benta and Jemuel Cabey for 18 and 19 respectively to see Leewards to lunch at 64-6.
With Sinclair ripping through the order from one end, Kevin Umroa operated from the other, bagging three wickets including the wicket of number 11 batsman Kian Pemberton for 17 and end the highest partnership of the innings worth 26 runs. Umroa ended with 3-28 while Jones and Torrington copped 2-27 and 1-19 respectively as Leewards lasted all but 48.2 overs.
Around the Web