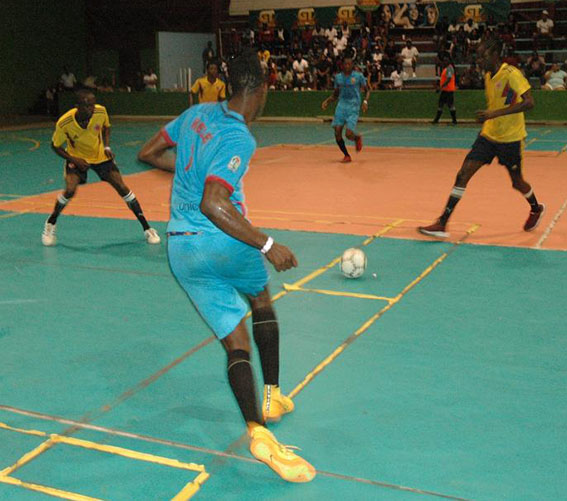 Controversy reigned at the National Gymnasium on Thursday as Sparta Boss defeated Leopold Street 3-2 on penalty kicks in the semi-final round of the GT-Beer 'Keep Ya Five Alive' Futsal championships.
The penalty shoot-out which ensued after the extra time interval ended 4-4, was riddled with controversy as the officials lost control of the contest.
Leopold Street suffered the first of many episodes of poor officiating when Sparta Boss custodian Devon Charles came off his goal-line before the ball was kicked to deny Okeene Fraser.
This ignited protests from the Leopold Street camp who surrounded the official, only to be told that it was a legitimate penalty kick.
The second instance of controversy immediately followed as Eusi Phillips stopped during his penalty kick run-up, sending the goalkeeper Travis Best diving to his right, before slotting the ball into the left corner.
 This prompted another series of protests from the Leopold Street camp. Eventually, Tyrese Forde levelled the score for Leopold Street with a finish into the left side.
Once again Charles was well off his goal-line before the ball was struck by the forward. Sparta retook the lead  2-1 when Sheldon Shepherd blasted his effort into the roof of the left corner.
Further controversy befell the matchup as Charles came off the goal-line once again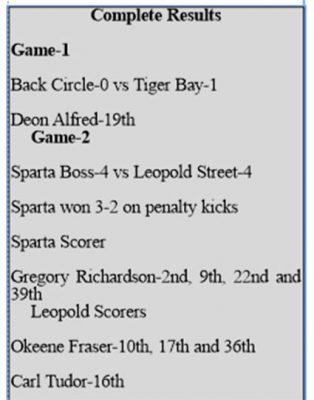 to deny Carl Tudor. Under pressure from the protests of Leopold Street, the officials asked for the penalty kick to be retaken.
This sparked a protest from the Sparta Boss camp, which lasted several minutes. The controversy continued as Charles once again left his goal-line illegally to deny Tudor once again.
Another protest quickly ensued which lasted far longer than the aforementioned. 
Once again the officials asked for the penalty kick to be retaken as spectators and players questioned why the officials did not flag the earlier infractions from Charles.
Omallo Williams replaced Tudor as the kicker and finished his effort with aplomb into the top right corner to level proceedings at 2-2.
However, the contest was sealed in the third and final kick from Sparta Boss compliments of a Jermin Junior conversion into the left corner.
Prior to the controversial ending, Gregory Richardson tallied a helmet-trick for Sparta Boss in the second, ninth, 22nd and 39th minute.
For Leopold Street, Okeene Fraser fashioned a hat-trick in the 10th, 17th and 36th minute, while Carl Tudor scored in the 16th minute.
 Meanwhile, Tiger Bay edged Back Circle 1-0. Deon Alfred scored in the 19th minute. The two winners will face-off at the same venue on August 11th.
Around the Web