Michael Anthony returned to the local circuit and blazed the trail in a solo ride at the 15th annual Seven Seas 11-stage cycling programme in the National Park yesterday.
The event was not incident free as Walter Grant-Stuart took to the ground during the break away which allowed Anthony to remain in the lead bunch throughout the 35-lap event and extend his half-lap lead over the pack and seal the title in a time of one hour, 20 minutes and 40 seconds (01:20:40).
Despite the dominance of Anthony and his ability to pace the race, it was We Stand United's Deeraj Garbarran who rode superbly but was forced to settle for second.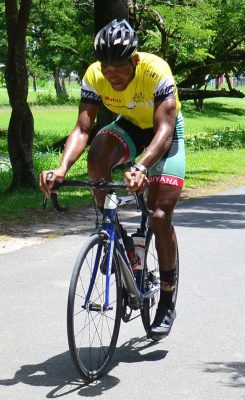 Garbarran was down and out heading into the 27th lap with the pack 500 metres ahead. However, it took only two laps for Garbarran to take the lead which he held until the penultimate lap when he fell to seventh.
Garbarran quickly followed Anthony on the sprint but was already exhausted.
Garbarran said the race was one that challenged him and was all in his hands until Anthony leapt in front early on.
Products Specialist at race sponsors, Massy Group of Companies, Nirvana Thakur, said the event has been one that is always a mainstay on the calendar of activities for the company while indicating that they will continue to support sports and a healthy lifestyle for every individual.
Race Organiser, Hassan Mohammed, thanked the participants for their efforts and the sponsors for their long serving dedication to the sport.
Jamaul John pipped Paul Denobrega for the third spot while Christopher Griffith and Alonzo Ambrose took fifth and sixth position respectively.
The juniors 10-lap race was won by Adealie Hodge while Richard Van Veen and Shamaul Young finishing second and third respectively.
In the 9-12 years category, Seron Hubbard, John Niles and Aneesa Barker finished in that order while Richard Van Veen won the 12-14 category.
Ralph Williams won the veterans Under-50 category in a time of 11:48 with Leer Nunes in second and Oliver Young in third.
In the Over-50 category, Ian Jackson copped first while Linden Blackman was second and Kennard Lovell third.
Around the Web