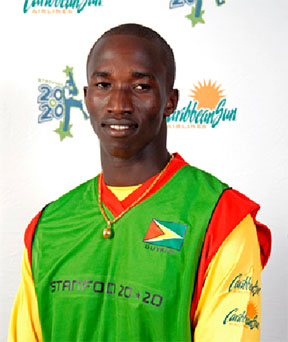 It has been just over a decade since Rayon Griffith played his final first-class match for Guyana which ended with a five-wicket loss against Barbados. 
These days, he enjoys success as a Coach with Guyana Jaguars, Windies 'A' and the Guyana Amazon Warriors. 
Ironically, his last first-class wicket accounted for the demise one of his current players in the West Indies 'A' team – Skipper, Shamar Brooks. 
The scorecard read: caught Mahendra Nagamootoo, bowled Griffith for 25. 
It was Brooks' debut match and it was set  to be the beginning of a fruitful career for the former West Indies U19 Skipper while it also signalled the end of Griffith's – an indifferent one at that. 
Nearly 11 years later, the two have crossed paths again. They are both vital cogs in the current West Indies 'A' structure as Skipper and Assistant Coach.
For Brooks, who has not lived up to the hype, the lower tier of the Windies set up, likewise for the Guyanese – Griffith – are opportunities to fortify their credentials as a player and coach, individually.
To date, both seem as though they are making the most of the opportunities. 
And clearly, Griffith in particular, understands that they are many pilgrimages to the West Indian team. Some can get there as a player, and in Griffith's case, his opportunity may come as a Coach. 
As mentioned before, Griffith has grabbed several opportunities in the West Indies 'A' set up. 
His first outing as Coach in the 'major leagues' came with the West Indies President's XI who played against India in 2016. 
He impressed and was offered to his debut stint with the Caribbean 'A' side that very year when they journeyed to Sri Lanka.  
Since then, he had three other opportunities which came against Sri Lanka 'A' during their tour of the Caribbean and West Indies 'A' recent home and return tour of the United Kingdom. 
To further demonstrate his growing reputation, Griffith was recently appointed Assistant Coach of the Guyana Amazon Warriors at this year's Hero Caribbean Premier League (CPL).
It was against that backdrop that Stabroek Sport sat down with the 39 – year-old for a chat on a range of topics – firstly his notable accomplishment as a Coach. 
"As a Coach, you always want to win and see players develop and my role as Assistant Coach to Coach [Esaun] Crandon with the Guyana Jaguars, has seen us accomplish both after winning four successive titles while also seeing a number of our local guys graduate to the West Indies set-up," Griffith disclosed. 
"Also, being a part of the 'A' team and seeing guys develop…not just from Guyana but notably [Sherfane] Rutherford, Keemo Paul and young [Shimron] Hetymer." 
Interestingly, the former fast bowler is a man of many caps. He is currently the Chairman of Selectors for Guyana, the Manager of the national team while also executing his duties in the coaching realm. 
Asked how he manages those roles, Griffith said: "planning makes the job easier."
Even as he experiences success, however, the former GNIC player faced criticisms in the media even as Guyana continues to dominate the regional landscape. 
He is, however, not fazed and told Stabroek Sport that he deals with it by not reading too much into what is said.
"You will always face a few critics, not everyone in the world will like you, but it motivates me to do better… because the team's success is there to speak for itself and I usually don't read and follow negatives comments to take my positive energy away…" Griffith said as he noted that his focus is on developing cricket in Guyana. 
When quizzed about future endeavours, the former Coach of the Year nominee, disclosed that he remains steadfast in playing his role locally and is ready to lend his services at the highest level.  "It's all about steps and small goals… I still want to continue here in the Jaguars set up but definitely as I get better, I'd want to go to the bigger stage to definitely be a part of the West Indies set up because I'm a West Indian and I want to see our cricket improve."
Around the Web