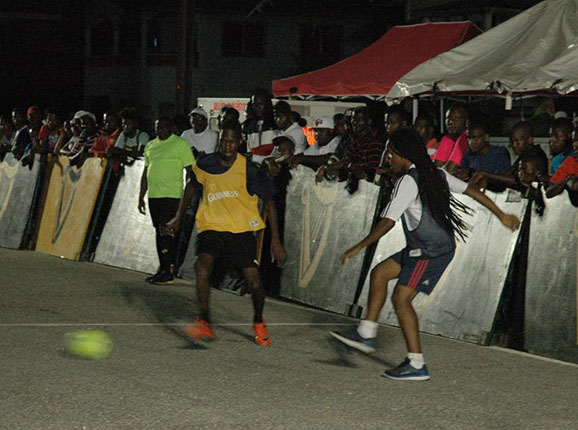 Following a massive turnout on the opening night the second Guinness Cage Street-ball championships will resume on Wednesday at the Haslington Market Tarmac with 12 matches.
In the opening fixture, Beterverwagting (BV)-B will oppose Vryheid's Lust at 19:00hrs while the second match pits Melanie-B against Plaisance from 19:20hrs.
Avocado Ballers will then battle Paradise at 19:40hrs.
In the fourth matchup, Back Circle tackles Belfield Warriors from 20:00hrs, Leopold Street opposes Broad Street at 20:20hrs and Blazers engage Victoria Eagles from 20:40hrs.
The seventh matchup will witness Sparta Boss engaging Alexander Village from 21:00hrs while Tiger Bay battles North East La Penitence at 21:20hrs and Albouystown tackles Victoria Church Yard from 21:40hrs.
In the final three matches, Melanie-A opposes Hustlers from 22:00hrs, while defending champion Ol Skool lock horns with Haslington Hypers from 22:20hrs and Uprising tackles Buxton Diamond from 22:40hrs.
Some 24 teams selected from the East Coast of Demerara and Georgetown will square off for prizes in excess of $700,000 including trophies and individual prizes for outstanding performers.
 The teams will be divided into six groups of four teams, with the top two teams from each group along with the four best third place finishers advancing to the knockout round. Each match will be 14 minutes in duration.
 Among the other entities who have pledged their support to the event are: Banks DIH under its Guinness and Power Wine brands, Queensway Security Services, the Gaming Authority, Clark's footwear giants Chetsons, E-Networks Inc., KSM Investments, Yhip's Bakery, Brass Aluminum & Cast Iron Foundry (BACIF), Ray's Auto Sales, Y.K. Investments, Trophy Stall, Express Shipping, Woodpecker Products, National Sports Commission, 'C' Division of the Guyana Police Force, Jai Signs & Auto Designs, Give Another Chance Foundation, Julius Variety Store and C & C Prestigious Styles. Below features the complete list of matches for Wednesday.
Day-2 Fixtures
BV-B vs Vryheid's Lust-19:00hrs
Melanie-B vs Plaisance-19:20hrs
Avocado Ballers vs Paradise-19:40hrs
Back Circle vs Belfield Warriors-20:00hrs
Leopold Street vs Broad Street-20:20hrs
Blazers vs Victoria Eagles-20:40hrs
Sparta Boss vs Alexander Village-21:00hrs
Tiger Bay vs North East La Penitence-21:20hrs
Albouystown vs Victoria Church Yard-21:40hrs
Melanie-A vs Hustlers-22:00hrs
Ol Skool vs Haslington Hypers-22:20hrs
Uprising vs Buxton Diamond-22:40hrs
Around the Web