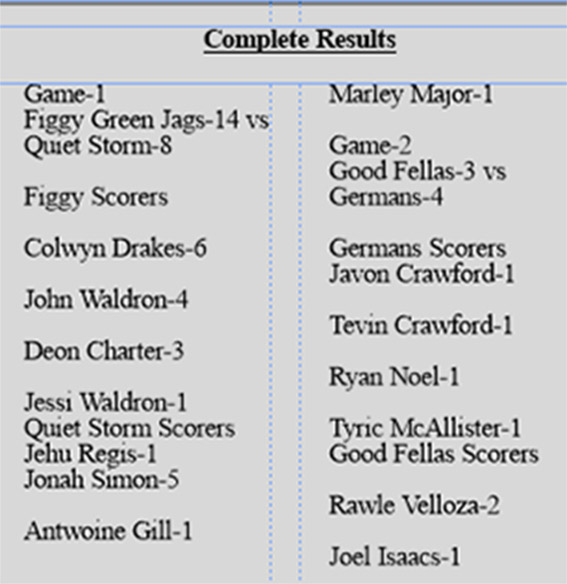 Tournament favourite Figgy Green Jags will oppose Germans in the final of the Mohamed's Enterprise/ExxonMobil Futsal Tournament, following semi-final wins on Saturday at the Mackenzie Sports Club (MSC) hard-court, Linden.
 The star-studded newcomer Figgy Green Jags, continued their dominant showing, brushing aside the youthful Quiet Storm by a 14-8 score line.
 Colwyn Drakes was the star of the night with an impressive six goals. He was followed by a helmet trick from John Waldron and a Deon Charter hat-trick
Adding to the score line was Jessi Waldron. For the loser, Jonah Simon was equally outstanding with five goals, with Jehu Regis, Antwoine Gill and Marley Major scoring one apiece.
On the other hand, their opponent Germans squeaked past Good Fellas 4-3. Javon
Crawford, Tevin Crawford, Ryan Noel and Tyric McAllister each found the back of the net in the victory.
For Good Fellas, Rawle Velloza recorded a double, while Joel Isaacs tallied one goal. The two winners will now face-off on August 18th in the grand finale.
The respective losers will match skills in the traditional third place playoff.
Winner of the event will pocket $600,000 and the championship trophy, while the second placed finisher will collect $250,000 and the respective accolade.
The third and fourth place finisher will walk away with $100,000 and $50,000 respectively and a trophy. Below features the complete results for the matches.
Around the Web