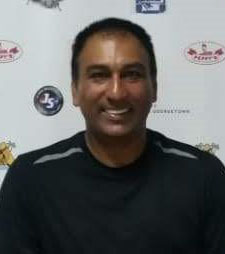 The race for the title of the Lusignan Golf Club annual champion continued at the Lusignan Golf Club this past weekend with new contender Wayne Chan defying the rain and wind to take top Best Net honors with a score of 69.
Patanjalie "Pur" Persaud continued to make a statement as he shot a net 72 to place second and Guillermo Escarraga, making his return to the course, ended with a net 74 to finish in third position.
In the Best Gross category, it was Club President Aleem Hussain taking first place with two-time Guyana Open Champion Mike Mangal second and Persaud challenging for the third spot.
The winner of the annual points competition gets a variety of prizes along with a full year of bragging rights and the competition was keenly contested in the early stages but after winning the first four events, the Best Net Champion Title looks to be a shoo-in for Hussain who has performed extremely well this year. There is still a battle for the Best Gross Title as Mangal refuses to quit and with just two matches left to play, it will come down to very end!
The Lusignan Golf Club has seen an increased number of tournaments this year and as more major companies join the sponsorship ranks, the game is becoming more popular, drawing the attention of all ages and gender. The 2018 Guyana Open promises to be a major event with golfers form more than 12 countries are expected to participate.
Only 100 spots are available for this year's event and golfers are urged to register early to ensure that they have a spot to contend. Non-members are eligible to play in the two-day tournament and the fee of US$200 covers all expenses for the entire event.
Tickets for the Guyana Open will be available from October 1.
Around the Web