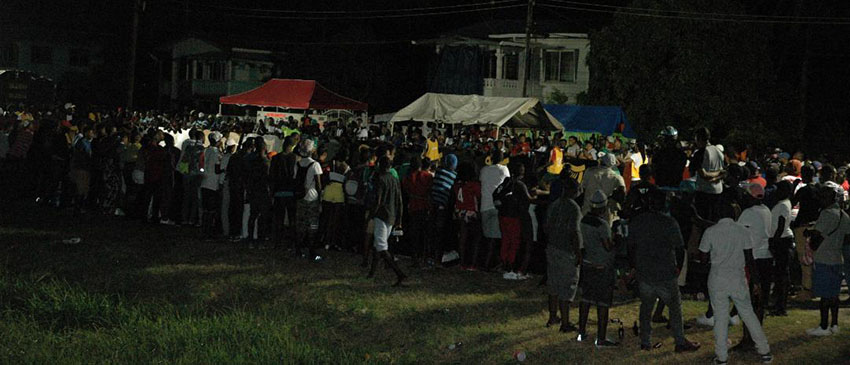 With berths to the knockout round still up for grabs the Guinness Cage Street-ball Championship will resume tomorrow at the Haslington Tarmac with 12 group matches.
Teams such as Melanie-B, Blazers, Avocado Ballers, Sparta Boss, Paradise, Melanie-A, North East La Penitence, Victoria Church Yard, Buxton Diamond, Plaisance, Uprising and Haslington Hypers are in trouble following losses on the opening night.
The aforesaid teams will be targeting their first victories to remain in contention for an elimination berth and, as such, fans can expect thrilling encounters.
According to an official release from the coordinators, Three Peat Promotions, "Opening night action last Wednesday produced some surprises with defending East Coast Zone Guinness 'Greatest of the Streets' champion Uprising falling to Vryheid's Lust narrowly while the highly successful Sparta Boss went down to reigning champion Ol Skool Ballers in similar fashion.
"Buxton Diamond, one of the pre-tournament favourites to come out of the East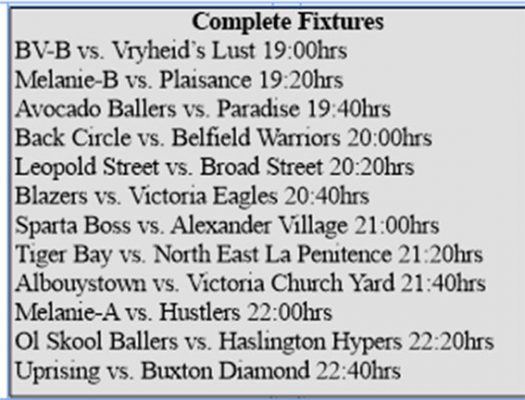 Coast teams section was also stunned, losing to Beterverwagting [BV-B] 1-0, while host Hypers fared even worse against Alexander Village, losing by a 6-2 margin and will no doubt want to improve their performance in front of the anticipated large home support," the release added.
Meanwhile, wins tomorrow night for teams such as BV-B, Hustlers, Victoria Eagles, Albouystown, Tiger Bay, Belfield Warriors, Broad Street, Leopold Street, Alexander Village, Ol Skool Ballers, Vryheid's Lust and Back Circle, will secure their berths to the knockout round.
Some 24 teams selected from the East Coast of Demerara and Georgetown will square off for prizes in excess of $700,000 including trophies and individual prizes for outstanding performers.
The tournament was conceptualized to foster integration among the participating communities in an effort to create a better understanding among its inhabitants.
The teams will be divided into six groups of four teams, with the top two teams from each group along with the four best third place finishers advancing to the knockout round. Each match will be 14 minutes in duration. 
Among the other entities who have pledged their support to the event are: Banks DIH under its Guinness and Power Wine brands, Queensway Security Services, the Gaming Authority, Clark's footwear giants Chetsons, E-Networks Inc., KSM Investments, Yhip's Bakery, Brass Aluminum & Cast Iron Foundry (BACIF), Ray's Auto Sales, Y.K. Investments, Trophy Stall, Express Shipping, Woodpecker Products, National Sports Commission, 'C' Division of the Guyana Police Force, Jai Signs & Auto Designs, Give Another Chance Foundation, Julius Variety Store and C & C Prestigious Style.
Around the Web