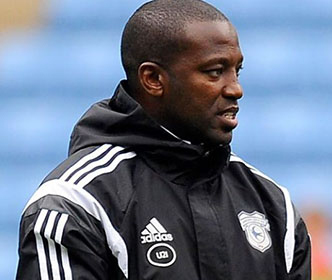 Recently appointed Golden Jaguars head-coach Michael Johnson is calling on all stakeholders to support the national programme as they aim to qualify for the CONCACAF Gold Cup and 2026 FIFA World Cup.
Speaking at the Estadio Municipal Jose Maria De Brito Barros, Rio de Janeiro, following the team's first day of training, Johnson said, "It's an opportunity for everyone from Guyana, whether you live in the country, whether you are further afield, to get involved. We need the help of the government, we all know the pitches could do with some significant investment, grassroots football can do with some significant investment."
The ongoing encampment, which witnessed the launch of Project 100 initiative, is geared towards preparing the team for the CONCACAF Nations League with the long-term plan of enabling Guyana's qualification for the FIFA World Cup 2026.
The former Jamaica international, added, "We mean business, we're not just saying we want to get into the top 100 but we want to be consistent, sustainable and stay there. We want to help the next crop of players coming through."
According to Johnson the plan was for Guyana to become a football power within the region.
"We want to be there for the next 10 –15 years; we want to be a powerhouse within the region; we want to be qualifying for World Cups and see investments coming back into Guyana, but the journey starts now. "It's great if we all wait though, anybody can do that, but do you really believe in the message that we as a staff, we as a group of players, President Forde, everybody included is saying? We are here because we mean business; we are here in Brazil to work and we will get better, we will qualify for the top 100."
"But in the process, we need the government to back us now, we need the sponsors now to say, `listen, I'm going to this journey'.
"We're saying get involved in the grassroots now, get involved with the infrastructure, you know, how can you help? I really believe that this is a pivotal moment for Guyanese football. We get this right, we'll be sustainable for the next 10, 15, 20 odd years or so," he added.
Around the Web