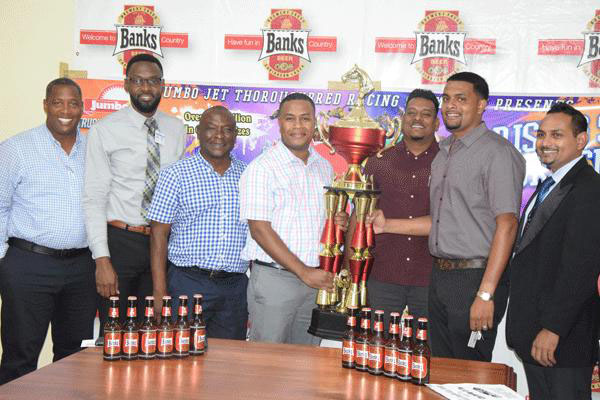 If you are a fan of the 'Sport of Kings', then the place to be tomorrow is the Rising Sun Turf Club to witness the 12th edition of the Guyana Cup, one of the nation's biggest horse race meets.
The highly anticipated event will see in excess of $15 million in stakes and prizes being awarded to stable owners.
Gates at the venue open at noon.
The annual Guyana Cup has become one of country's traditions over the years and this meet is being dubbed the one of the 'biggest' ever.
Ten races are carded with the feature C and Lower 1600m race has close to four million as the prize package.
The winning stable owner will pocket an appetizing $2 million and the Guyana Cup trophy.
The second prize will be $1 million, while the third prize stable will pocket $500,000.
In the Co-feature 3 Year Old Derby, the organizers have put up a mouthwatering $2 million as the prize package.
According to the programme, steeds like defending champion, Vera's Finally, 2016 winner, Princess She Is Not, Just Call Me Boss, Brave Sky, It's My Choice, Jack In My Style and 2014/2015 winner of the Guyana Cup, CP Got Even will be in the starting gate for the showpiece event.
The top jockey along with the runner up, the top stable and champion trainer will all be presented with trophies and other incentives compliments of the organizers and Trophy Stall. Admission is set at $2000. 
The day's full race programme reads as follows:
1) C class and lower, 1600m. Total purse: $3,875,000
2) 3yr old Derby 1100M – purse: $2,000,000.
3) G1 and lower 1400M – purse: $1,550,000.
4) H3 and lower 1100M – purse $1,350,000.
5) 2yrs old Guyana Bred 1100M – purse: $680,000.
6) I class and lower 1400M – Purse: $581,000.
7) J3 and lower 1400M. Purse: $485,000.
8) L class 1400M – purse $390,000.
9) L class 1400M – purse $390,000.
10) L class 1100M – purse $290,000.
The list of sponsors for the Guyana Cup includes the Discount Store, Hand-in-Hand Insurance, SuperBet, Gizmos and Gadgets, B.M. Soat, Mazi Night Club, Hyper Malt and Rohan Auto Spares, Big L Lumber Yard, Impressive Signs, Mohamed's Enterprise, Banks DIH along with Elvis and D' Emperor Trucking Services.
Around the Web