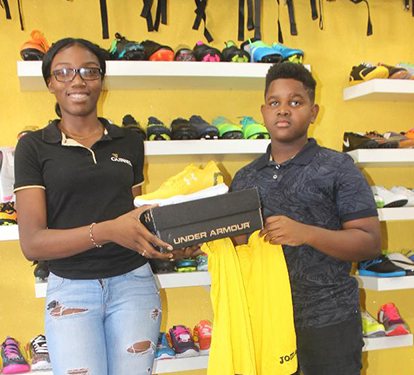 Colours Botique continued their longstanding dedication to the development of athletes in Guyana as they renewed their sponsorship of former Caribbean Under-11 champion and National Under-13 table tennis protégé, Kaysan Ninvalle.
Ninvalle, who is looking for his second title in the Caribbean Mini-Cadet and Pre-Cadet Table Tennis Championship, set for the Dominican Republic from August 26 – 31 will represent Guyana in the Under-13 division with gears compliments of the sporting goods giant.
At the store's Robb Street location on Saturday, Ninvalle was presented with the goods of which he described as aids to him being the best player he can be.
"I would like to thank the sponsors for this, it has made me into a better player and I will continue to make them proud and do my best to represent Guyana." Ninvalle said.
Sales representative at the clothing and footwear store, Coreena Damon said the company is committed to the development of sport, noting "once it is sport, Colours is there."
She went on to state that Ninvalle has made the sponsor's proud having excelled in both academics and athletics, expressing her confidence in his performance later this month.
The young man has had a decent 2018 in tournaments he participated in with his most notable championship title coming from the Guyana Table Tennis Association Nationals a few months ago when he defeated Niran Bissu in the boys under – 15 finals.
 He also had a number of enthralling exchanges with the improving Jonathan Van Lange which gave him the ideal preparations heading into the championships.
Around the Web