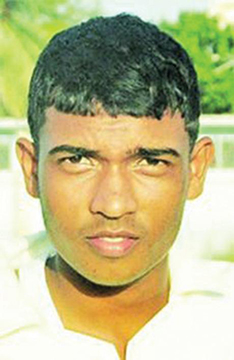 Everest Cricket Club marked the return of the Georgetown Cricket Association (GCA) New Building Society (NBS) second-division 40-over tournament with a 44-run win over Transport Sports Club in Zone A at Everest, Camp Road on Saturday.
Transport, who are one position above Everest in the point's standings, won the toss and sent Everest to bat on a familiar track with the sun blazing and they posted 217-9 from their allotted overs while Transport could only muster 173 all out in 38.4 overs.
Richie Looknauth was the foundation of the Everest innings, carving 63 runs in a knock that included four sixes and a pair of fours before he was enticed into a miscued shot off of Akeem Redman and was caught by Sheldon Alexander at long on.
Looknauth shared a 60-run stand for the seventh wicket with Malcom Howard, who stroked 30 while more support came from Ronaldo Renee and Dwayne Adams with 31 and 24 runs respectively.
Suresh Boodhu was the pick of the bowlers, claiming 4-27 while Raphael Singh bagged 2-36.
In the chase, a fourth-wicket partnership of 62 between Jevon Alleyne and Singh was not enough to dig Transport out of the hole they found themselves in after a slow start.
Alleyne contributed 54 with two fours and a single six while Singh managed 23 and Azeem Azeez 20. However there was too much left for Shaun Massiah to do although he ended unbeaten on 34 in a quick-fire innings before running out of partners.
Javid Rasheed snared 3-15 from six overs while Avishkar Gobin walked away with 2-12 from his three overs.
Around the Web