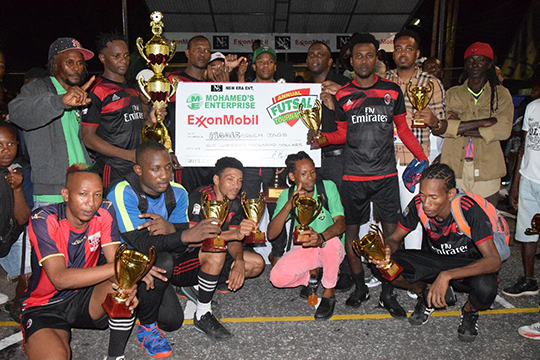 Debutants Figgy Green Jags were crowned the Mohammed Enterprise/ExxonMobil Futsal Champion, edging Germans 8-7 Saturday at the Mackenzie Sports Club (MSC) Hardcourt, Linden.
Colwyn Drakes scored a hat-trick while John Waldron and Deon Charter added two goals each. Adding to the score with a solitary conversion was Donovan Francis.
For Germans,  Andre Mayers and Orlonzo Thurman recorded respective doubles while Tyric McAllister, Ryan Noel and Tevin Crawford scored one goal each.
Figgy Green Jags walked away with $600,000 and the championship trophy while the losing finalist pocketed $250,000 and the runners-up accolade.
Meanwhile Good Fellas edged Quiet Storm 11-10. Runie Velloza recorded seven goals while Joel Isaacs netted a hat-trick.
For Quiet Storm, Jehu Regis tallied a helmet-trick, while Marley Mayor registered a hat-trick and Antwoine Gill added a brace. Jonah Simon netted once.
With the result, Good Fellas walked away with $100,000 and a trophy, whilst Quiet Storm collected $50,000 and a trophy.
Around the Web