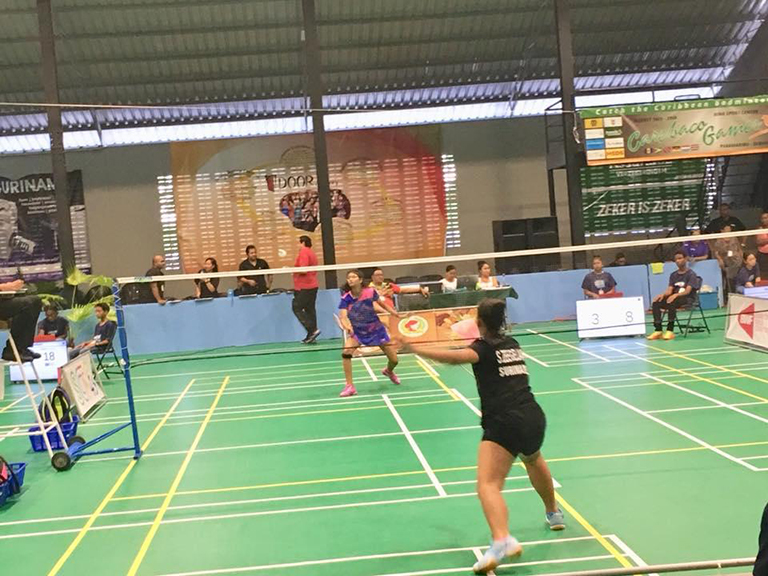 Sixteen-year-old Priyanna Ramdhani is guaranteed a medal at the Caribbean International and Regional Junior and Senior Badminton Championships currently taking place in Paramaribo, Suriname after she stormed into the junior girls singles final with an upset win over the top seed Saturday.
Last night Ramdhani, Guyana's top female player was down to play in both the female Under-19 singles and doubles.
At the Ring Sports Center in Ringweg Noord, Guyana's female badminton champion Ramdhani was the center of attraction, silencing the audience with an upset win over the number-one ranked player in the division and tournament favourite, Imani Mangroe in their semi-final showdown.
Mangroe was thrashed by Ramdhani who outclassed the Surinamese 21-9 and 21-7 to storm into the final.
It was sweet revenge for Ramdhani who had lost to her arch rival the last time the two met in Trinidad and Tobago in the same competition.
According to Coach, Gokarn Ramdhani, "Priyanna came back very strong with an impressive game play, executing precise shots which saw the opponent scrambling on court to return. Priyanna's  game play was due to lots of intensive training at the Guyana Olympic Association Gym where she was trained by Theodore Henry two times a week and her on court development was due to the one month training Camp in Guatemala in the early part of 2018. She also trained very hard at Yonex Badminton Club three times a week and is very dedicated to her self-improvement," said Ramdhani who is also president of the Guyana Badminton Association.
Meanwhile, in the Under-19 girls doubles Ramdhani teamed up with Chequeda De Boulet of Trinidad to defeat the Surinamese pair of Erisa Bleau and Chaista Soemodipoero 26-24, 21-15 in the semi-finals and book her spot into the finals.
"In the first game playing girls doubles Priyanna and Chequeda were down 11-18 and were on the verge of losing when Priyanna decided to put her partner in front and take over the game. They were then able to equalize the score at 20-20 before going on to win the game and also the second one to take the match," Gokarn Ramdhani said.
Ramdhani will face her doubles partner, De Boulet for the singles title while the pair will face Mangroe and Faith Sariman in the girls doubles final.
Around the Web