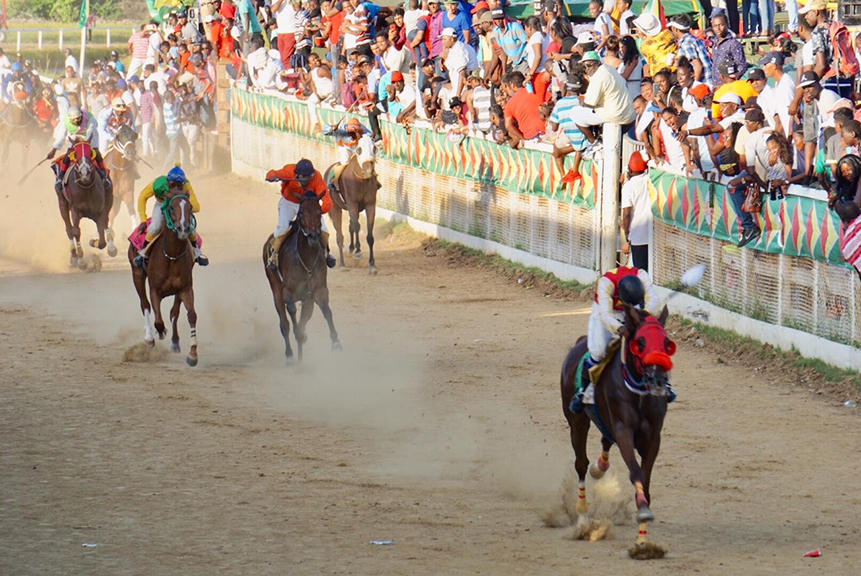 Vera's Finally captured an emphatic gate-to-pole victory at the Rising Sun Turf Club to repeat as champion of the feature event of the Guyana Cup yesterday, justifying the favourite tag given at the start of the race.
On a breezy Sunday afternoon at the overflowing venue, the chestnut filly sent the turfites into a frenzy as she galloped across the finish line ahead of six other race horses in the C and Lower eight furlong event.
The victory was worth a hefty and appetizing $2M and the large Banks DIH Limited trophy.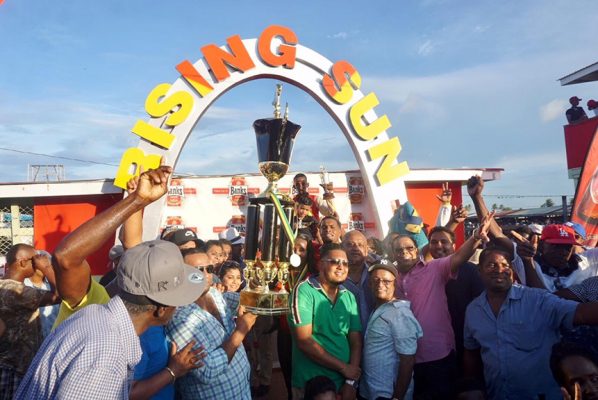 The duo of horse and jockey, Colin Ross flew down the well prepared track at a break-neck pace from start to finish, showing elite speed that bodes well for the upcoming horse race meets in the 592. 
Note: Since being imported from the USA and making its debut at last year's Guyana Cup, Vera's Finally has won all three races started at Rising Sun. 
TNT ($1M), Isn't She Charming ($500,000) and Goodwill Boy ($250,000) were the steeds that placed second, third and fourth respectively. 
Vera's Finally and Just Call Me Boss set the pace from the break with Princess She is Not, Isn't She Charming and the others lurking. 
There she stayed until Paul Delph on Just Call Me Boss made a bold move on the third turn sweeping up TNT in the process.
As TNT and Vera's Finally entered the home stretch, to a loud roar of the thousands of turfites, it looked as though the race could have gone either way. 
But champion jockey Ross and the race horse from the Jumbo Jet Racing Stables produced a late powerful surge and never relented to repeat as champion by about 10 lengths. 
In the co-feature, 1100m, Three year-old Guyana Bred event, Not This Time surged ahead on the homestretch and claimed the $1M first prize that was up for grabs.
Perfect Return, The Final Line and Feona filled out the top four rewarding positions.
Besides the feature and co-feature, there were eight other races. Here is a summary:
Race 1 (1400m L Class)
Miss Angeline ($200,000)
Puppy Tail
Awesome Cash
She is a Princess
Race 2 (1400m L Class colts and geldings)
Red Region ($200,000)
Plane Land
Catch a Glimpse
Byron
Race 3 (1400m G1 and Lower)
Storm Bird ($800,000)
Keep on Swinging
Settling Star
Red Rocket
Race 4 (1400m J3 and Lower)
Miss Olympic ($250,000)
Pick A Chu
King Stanley
Guvna Ground Gal
Race 5 (1100m 2 Year old Guyana Bred)
Is He Perfect ($350,000)
Princess Tasha
Ebony Prince
Perfection
Race 6 (1100m H2 and Lower)
Isn't She Charming ($600,000)
Gypsy Princess
Ready to Romance
Seven Dust
Race 7 (1100m L and Lower)
Gold Again ($150,000)
Cash Jet
Prince
Black Track
Race 8 ( 1400m I and Lower)
Ms Olympic ($300,000)
Not This Time
Party Time
The 'Sport of Kings' continues on Sunday with a meet at the Budhan's Turf Club at the No.66 Village. (Emmerson Campbell)
Around the Web