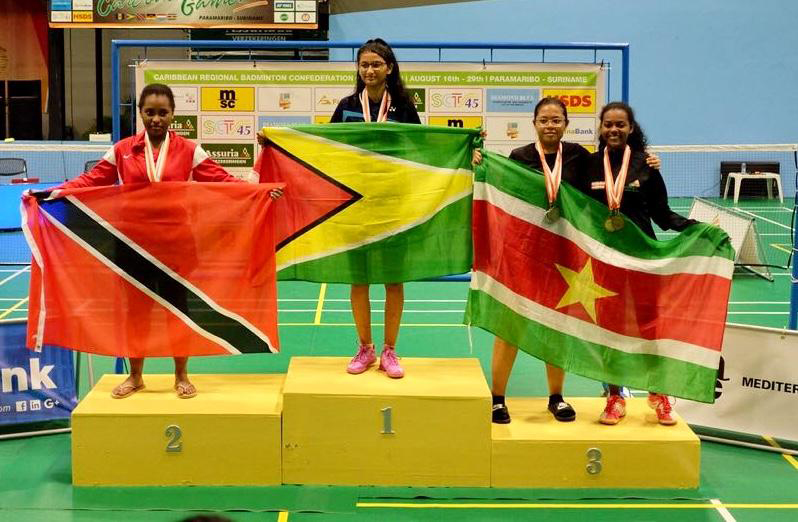 Guyana's top female badminton player Priyanna Ramdhani cemented her place at the top of the Caribbean Under-19 female singles as well as one half of the Under-19 ladies doubles when she copped gold in both categories at the Badminton World Federation (BWF) CAREBACO Caribbean International and Regional Junior and Senior Badminton Championships in Paramaribo Suriname on Sunday.
Following her unprecedented success, the 16-year-old, in an invited comment, said "I think my performance was very good and all I can say is my training paid off."
Speaking of the tournament, Ramdhani said that …"the competition was good." Declaring that she was happy to be the U19 female champion of the Caribbean, she also said that "the girls tried their best."
Ramdhani declared the win as one of her biggest achievements to date and she could not have done it without the help from her parents, especially her father/coach, Gokaran, and her brother, Narayan.
Ramdhani had effortlessly defeated the favourite in the tournament to advance to the final of the singles division where she disposed of her competitor, Chequeda De Boulet of Trinidad and Tobago equally impressively, winning the contest in 19 minutes with a score line 21-10, 21-4.
The pair, though rivals in the singles final, had teamed up to dismantle the Surinamese duo of Imani Mangroe and Faith Sariman 21-12, 21-14 in a lengthy 26-minute long match to lift the title of the female doubles champion and register her second gold medal.
According to Gokaran Ramdhani, President of the Guyana Badminton Association (GBA), "the GBA is extremely delighted with our results in the BWF Under-19 Championships and congratulate the payers that represented us and played their utmost best."
The BWF CAREBACO Senior International Championships which will also be held in Suriname starts today and the players taking part for Guyana are Narayan Ramdhani, Jonathan Mangra, Darrell Carpenay, Akili Haynes, Tyrese Jeffrey and Priyanna Ramdhani.
Around the Web