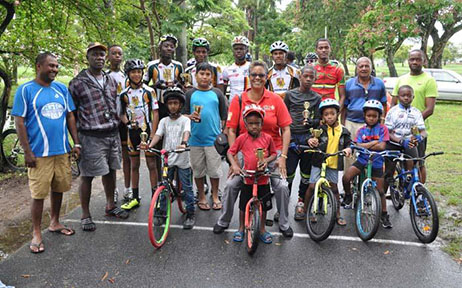 The National Sports Commission and Racing Secretary/National Cycling Coach, Hassan Mohammed in collaboration with the Guyana Cycling Federation will be hosting a special cycling programme on Friday in commemoration of the 175thanniversary of the city of Georgetown.
Mohammed explained that the programme will be held in the inner circuit of the National Park will be open to all participants of the Teach Them Young Programme and while the event will not feature a seniors race, it will see action in the veterans  category, a 10-lap dash.
The juniors and juveniles will also compete in 10-lap events while the BMX riders will be bundled into two age groups, 6-9 and 9-12 competing in one and two-lap races respectively.
The mountain bikers will also be in the action with Ozia McAulay, Julio Melville and Quincy Punch likely to take to the starting line in the five-lap race.
In the veterans category, the likes of Ian Jackson Warren '40' McKay, Lear Nunes, Andrew Spencer, Amrit Sankar, Paul Choo-Wee-Nam as well as the returning Junior Niles will all clash for the title and to show that age is just a number.
Meanwhile in the younger group, Adelie Hodge has been dominant in recent meets and is expected to be one of the favourites heading into the event alongside Ajay Gopilall and Ralph Seenarine.
The next generation riders such as Jared Barrington, Jahvin Henry, Jesicka Mohabir, Lennox Jackman, Jaheme Henry, Mark Lewis and John Niles are expected to also be on show.
Around the Web