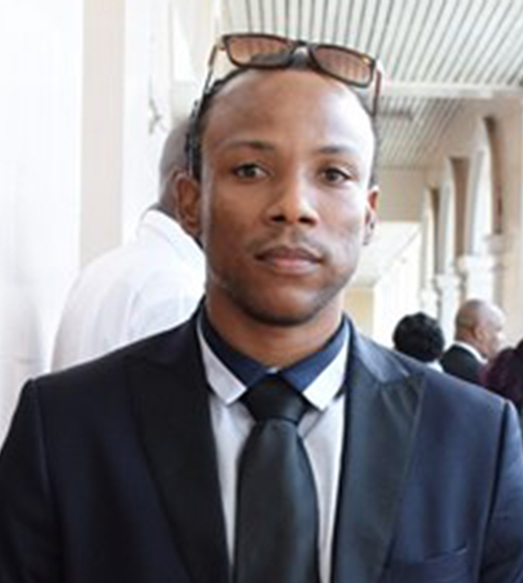 Member of Parliament Jermaine Figueira added his name to the growing list of sponsors of the Guinness Cage Street-ball championships by donating several balls to tournament coordinators Three Peat Promotions on Tuesday.
The Linden native, a rising star in the political arena and a seasoned football administrator, said that he is committed to sports development especially at the community and grassroot levels, which are the foundations of the discipline.
He disclosed that such initiatives foster social cohesion in a nation that is ethnically diverse, declaring he will always be supportive of enterprises that aim to bring communities together while giving opportunities to individuals to expose their talents.
"I will also be providing a pair of football turfs for the Most Valuable Player [MVP] of the tournament. Incentives such as this is good for improving the overall quality of event, as it awards talent and skill," he said.
The 24-team tournament is currently at the round of 16 stage and will resume Saturday at the Haslington Tarmac. Upon the conclusion of the round of 16 section, the quarterfinal stage will commence.  
The tournament is being organized to forge integration among the participating communities in an effort to create a better understanding among its inhabitants.
Among the entities supporting the cause are: Banks DIH under its Guinness and Power Wine brands, Clarks footwear giants Chetsons, E- Networks Inc., KSM Investments, Yhip's Bakery, Brass Aluminum & Cast Iron Foundry (BACIF), Ray's Auto Sales, Y.K. Investments, Trophy Stall, Express Shipping, Woodpecker Products, National Sports Commission, 'C' Division of the Guyana Police Force, Jai Signs & Auto Designs, Gaming Authority, Julius Variety Store and C & C Prestigious Styles.
Round of 16 Matches
(1)- Hustlers vs. North East La Penitence-19:00hrs
(2)- Broad Street vs. Alexander Village-19:20hrs
(3)- Tiger Bay vs. Avocado Ballers-19:40hrs
(4)- Leopold Street vs. Albouystown-20:00hrs
(5)- Sparta Boss vs. Back Circle-20:20hrs
(6)- Ol Skool Ballers vs. BV-B-20:40hrs
(7)- Blazers vs. Vryheid's Lust-21:00hrs
(8)- Uprising vs. Plaisance-21:20hrs
Quarterfinal Matches
(9)-Winner of 1 vs. Winner of 2-22:00hrs
(10)-Winner of 3 vs. Winner of 5-22:20hrs
(11)-Winner of 4 vs. Winner of 6-22:40hrs
(12)-Winner of 7 vs. Winner of 8-23:00hrs
Around the Web