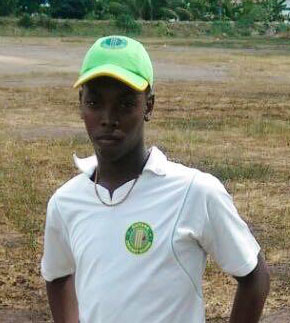 Akeem Redman laid waste to the Buxton Sports Club bowling attack to score his maiden century and lead Transport Sports Club to a 154-run win and level the three match series between the two clubs on Sunday.
Playing at the Buxton Club Ground, East Coast Demerara, the hosts won the toss and decided to field but soon regretted the decision.
 Redman smashed 10 fours and five sixes as he climbed to one of the fastest centuries locally to muscle his team to 248-8 from 35 overs.
Buxton, in only, were only able to muster 94 all out in 18 overs.
Opening the batting, Redman's blistering 110 came from just 60 deliveries before he was forced to retire after suffering a strain to his hamstring in the 28th over.
Speaking after the match, Redman noted that the decision to retire was one with his health and the team's interest in mind.
He pointed out that he trusted his team to do well and step up after he set the platform.
The 21-year-old said it was a wonderful feeling, scoring his first century of the year and in a quick manner and indicated that he looks to continue in the same vein.
His first goal is to win the series for his side before he thinks about the next step.
Redman found support from Shamar Yearwood who smoked a quartet of boundaries on his way to 35 while Shaun Massiah and Ewart Samuels cracked one six and a pair of fours each on their way to 22 and 20 respectively.
Joshua Blackman was the pick of the bowlers, snatching 3-37 while Demuka Nando took 2-35 from their full quota of seven overs.
In reply, Buxton were bundled out embarrassingly with only Akeem Blackman and Nando reaching double figures. Blackman managed two sixes and one four while Nando mustered a pair of sixes and a pair of fours on their way to 21 and 20 respectively.
Marke Baptiste was virtually unplayable, returning figures of 3-11 while Noel Haynes took 3-44.
Kevin Ross and Akeem Clarke bagged 2-27 and 2-19 respectively.
Previously Buxton had edged Transport in the opening contest by 10 runs before suffering the resounding thrashing. The two teams will now clash this weekend in the final contest to see who will emerge on top.
Around the Web