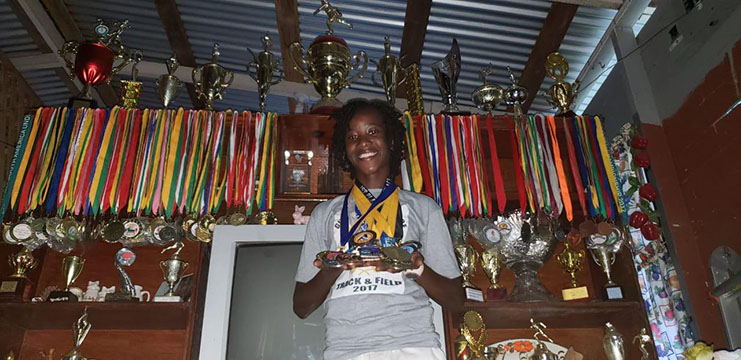 The region's best female junior long jumper, Chantoba Bright, is over the moon about entering the next chapter in her career.
Bright is expected to compete on the United States collegiate circuit after receiving a full scholarship to attend the University of Texas El Paso (UTEP).
The 'Leaping Pride Of Linden' who won back-to-back gold medals at the CARIFTA Games this year and last year, attracted interest from several colleges like Florida and Kansas State University, Monroe College, Liberty University and the University of Iowa.
Along with the guidance of her coach, Johnny Gravesande and her mom, Melissa Joseph, the 18-year-old ultimately chose UTEP.
Bright is at peace with her decision and when school starts on Monday, her focus will solely be on excelling in the classroom and disturbing the sand at an all-time high.
Said Bright from her dorm room yesterday "I chose UTEP because the weather here is basically sun and rain and it's what I am accustomed to like in Guyana. It may be more dry and gets cold from time-to-time but it makes me feel like home. The people are hospitable and there are different cultures here to learn from."
Bright added that the school and track programmes are "top notch being a D1 university. It is among some of America's top Universities and a NCAA powerhouse in track. It was just what I needed to elevate myself as I make my way forward to a brighter future both in school and on the track.
"El Paso is a beautiful place and an ideal area for training due to the altitude and weather and the school environment is very conducive to learning, so being here really makes me happy and excited about studying here and doing track," she declared.
The former Mackenzie High School student, who was successful at CSEC and CAPE, achieving three grade ones, six grade twos and a grade three (CSEC) along with two grade threes and a grade four (CAPE) then spoke about some immediate goals while attending the Division One University.
"On this scholarship, I intend to use up all opportunities given to me both academically and athletically. I want to maintain a GPA of 3.500 throughout the school year and to achieve a Bachelors Degree in Physical/Natural Science at the end of my course here at UTEP. As it pertains to athletics, I intend to train hard and be serious about it so as to improve my performances throughout the years here constantly. Getting better at what I do so that I may continue to represent my country on the international stage at every competition possible and at higher levels of competitions," she said.
She listed the CAC Championships, the Commonwealth Games, the World Championships and the ultimate goal of clinching an Olympic berth as early as 2020 among others also to make her school proud. "I also want to do my best to rep UTEP at all of the competitions that they participate in here in the USA."
Quizzed on her reaction when she found out about her unique opportunity, Bright answered: "I was overwhelmed when I received the scholarship because it's really a good school. But academically and athletically and I've been working hard to get into a good school and to be offered a scholarship from a NCAA powerhouse and a D1 college, I was filled with joy and excitement."
Joseph, who is currently in El Paso with Chantoba, was equally proud of her daughter who grew up in a single parent household in "a ghetto" of Victory Valley, Wismar.
"I feel proud as her mother because it's great when your child can reach this level coming from a single parent home and a community that is referred to as a ghetto."
Joseph added that Marian Burnett was instrumental in Bright's choice of El Paso since the coach (a friend of Burnett's) is a female from the Caribbean and will play a mother-figure role for her daughter. "It's different when a boy goes on a scholarship overseas than a girl, especially when it's your only girl child, so I am thankful that Chantoba will be in good hands."
Bright concluded by stating that excelling in the classroom and in track and field has opened a scholarship door for her and encouraged other teen athletes to emulate her feats.
A college education is the most rewarding benefit of the student-athlete experience. Full scholarships cover tuition and fees, room, board and course-related books. (Emmerson Campbell)
Around the Web