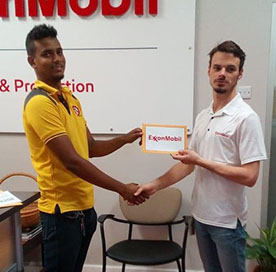 Ahead of the third round of the Caribbean Motor Racing Championship (CMRC) next weekend, Raveiro Tucker of  Team Tucker received much need sponsorship from ExxonMobil, 'D' Grill Kings and Hand-in-Hand Fire Insurance Company Limited on Thursday.
Set for the Bushy Park Raceway, Barbados, Tucker, will join Team Mohamed's Matt Truelove, Matthew Vieira and John Bennett as the Guyanese super stock contingent.
ExxonMobil Communications Advisor, Public and Government Affairs, Nicholas Yearwood, speaking at the handing over ceremony at the Oil giant's head office contended, "We decided that we would go ahead not only on his riding success but we also see that he is a good empowerment idol at least from our end."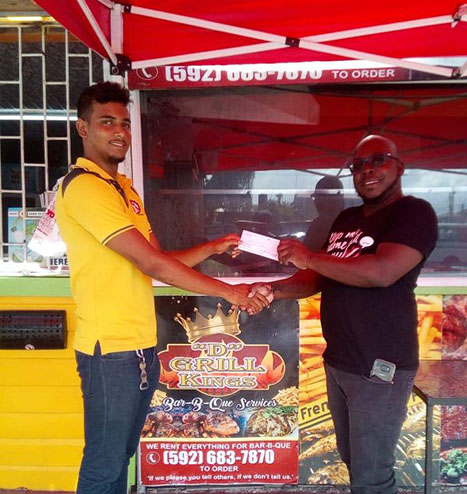 Also, 'D' Grill Kings, the leading Barbeque outlet in Georgetown became another of Guyana's home-bred companies to team up with Tucker as he ventures to Barbados for the Caribbean Motor Racing Championship on Monday.
At a simple presentation at D Grill Kings, business spot located at the head of D'Urban Street, Mandela Avenue, one of the company's Chief Executive Officers, Leslie "Two Feet" Howel said the barbeque giants were happy to be a part of Team Tucker who has taken the superbike circuit by storm.
Howel said Team Tucker has proven itself worthy of being one of the top outfits in the game and it is no surprise that D Grill Kings were so quick to jump at the opportunity to be a part of something so special.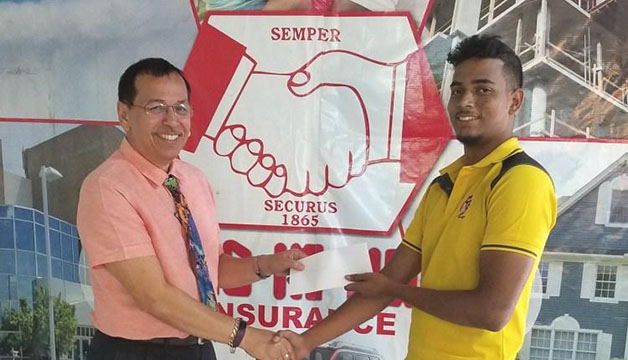 The CEO explained that Tucker is a young man with extreme potential and expressed his confidence in his ability to represent Guyana proudly in the upcoming championships.
Tucker said it is always good to have the support. He noted that D Grill Kings were among the best in the Barbeque business and said it was one of the spots he recharges at nights on their Mandela Avenue location.
The Hand-in-Hand Mutual Fire Insurance Company Limited has also collaborated with Team Tucker on his mission to become the champion in the Super stock Motorcycle class at the CMRC event.
Director/Fire Manager Howard Cox commended Tucker for his overall second place achievement in the Super stock 600 Championship in 2017 and wished him well in the remaining CMRC races scheduled for 2018 and all future endeavors.
Tucker expressed sincere gratitude to the company for its assistance and commended the management for their continued support towards the development of sports and youths in Guyana.
Around the Web