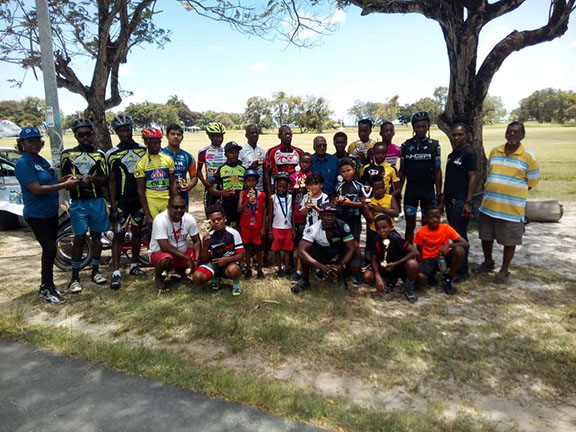 Veteran rider, team Coco's Junior Niles romped to victory in the veterans category while Donovan Fraser eased to the juveniles title during the 175thanniversary of the Georgetown as a city cycling meet in the National Park yesterday.
The event, organized by Racing Secretary/National Cycling coach, Hassan Mohammed and sponsored by the National Sports Commission in collaboration with Mayor and City Council and the Guyana Cycling Federation saw Niles, according to official timekeeper Joseph Britton, stopping the clock at 21 minutes, nine seconds and 42 milliseconds (21:09:42).
Sequin Hubbard and Ian Jackson were second and third respectively in the 10-lap event.
Fraser, who clocked a time of 23:26:34s, won from Roy Wilson and Steve Bhimsen who were second and third respectively.
Candace Nelson of the Mayor and City Council thanked the riders for their support as well as the organisers for hosting a successful event.
She commended the riders for their efforts and will to remain fit while stressing that the tournament will be back next year when it is expected to be bigger and better.
She also requested more participation from the cyclists in celebration of the wonderful cause.
Mohammed thanked the riders especially those of the 'Teach Them Young Programme' who were on exhibition for their outstanding achievement and reminded them that discipline and hard work were the keys to success.
Mohammed also pointed to an incident with a taxi driver who recklessly turned into the track where the young cyclists were competing and with total disregard returned a short while after to do the same.
The cycling stalwart asked the public to express a bit of care and attention when in the National Park and on the road ways.
Meanwhile, Jamal Cappell won the Mountain Bike race while Bhimsen took top honors in the BMX Open three-lap race ahead of Jaheme Henry and Brian DeNobrega in that order.
In the BMX two-lap 9-12 years race, Shaquel Dow won from Seron Hubbard and John Niles while Jose Rodrigues was the winner of the 6-9 years BMX one lap event, ahead of Javin Henry and Dwayne DeNobrega.
Around the Web