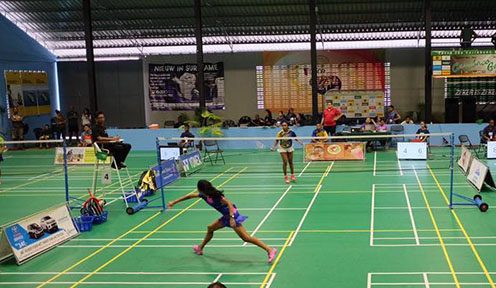 Priyanna Ramdhani, Badminton World Federation (BWFT) CAREBACO Under-19 girls singles and doubles champion will look to complete the double in Suriname when she takes part in the final of the singles and female doubles of the Open International championships.
The 16-year-old wonder kid defeated the number-one seed in the division, Jamaica's Katherine Wynter in the semifinals in a tense three set. Ramdhani won the first set, going the distance 24-22 but lost the second, 10-21. However she rebounded well to steal the final set 21-14. Earlier, Ramdhani marched part Monyata Riviera 21-19, 21-18.
Ramdhani, along with her Trinidad and Tobago championship winning partner, Chequeda De Boulet defeated Imani Mangroe and Mary-Ann Zhong of Suriname in another three setter, winning the women's doubles match 17-21, 21-16, 21-17.
Priyanna then teamed up with her big brother, Narayan but the pair lost their mixed doubles semi final to Barbados duo, Tamisha Williams and Dakeil Jonathan Thorpe in a high intensity battle 21-17, 17-21, 22-20. They will earn bronze. Meanwhile, the brother-sister pair defeated Soren Opti and Zhong 22-20, 21-8 in a previous contest.
Earlier in the contest, Akili Haynes and Tyrese Jeffrey lost to Shae Micheal Martain and Thorpe 21-9, 21-9 in the men's doubles as well as Jonathan Mangra and Narayan lost 21-15, 21-8 to Gilmar Jones and Dylan Darmohoetomo of Suriname in the semifinal to win Bronze. They had defeated Jia Luo/Alain Toney and Jamal Jared Thujssen/Roche Young a Fat in the previous rounds.
Narayan Ramdhani also lost his match in the men's singles against number one seed Robert Mann of Luxemburg 21-16, 21-8.
Around the Web