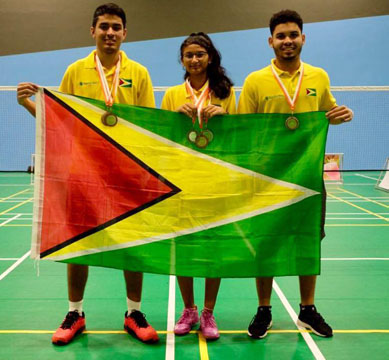 Sixteen-year-old Priyanna Ramdhani settled for the silver medal in her challenge for the Badminton World Federation (BWF) CAREBACO Senior Women's singles and women's doubles titles as the curtain came down on the tournament in Suriname Friday.
She also claimed a  bronze medal with her brother, Narayan Ramdhani in the mixed doubles at the Ring Sports Center, Paramaribo.
The young protégé, already the Under-19 girl's singles champion and winner of the Under-19 women's doubles competition, came up against the tournament second seed and number one ranked Barbadian, Tamisha Williams  in the women's singles final.
Priyanna Ramdhani, who already defeated the number one seed in the semifinal matched the Barbadian point-for-point.
The 35-year-old Barbadian won the match in a thrilling  three-setter.
Williams, currently ranked 302nd in the world secured game one while Priyanna Ramdhani who is ranked 763rd in the world bounced back to turn the tables with a win in the second set and was looking good in the third set only to see Williams slip away with the gold in the 43-minute contest, which ended 21-17, 17-21, 21-18.
Priyanna Ramdhani also won a silver medal in the women's doubles when she teamed up with her Trinidad and Tobago partner, Chequeda De Boulet to contest the final against a
number one ranked doubles player, Monyata Riviera and Williams. The Barbados duo secured the title over combined Guyana/Trinidad pair 21-15, 21-14 in another spirited contest.
Priyanna and Narayan Ramdhani also medalled in the mixed doubles. Having been eliminated in the semifinals, they earned bronze. Similarly, the men's doubles pair, Jonathan Mangra and Narayan Ramdhani won bronze after their exit in the semifinals.
Priyanna Ramdhani will continue her quest for another gold medal as she is set to take part in the CAREBACO Regional tournament in the Under-17 division.
uyana will also be represented by Matthew and Mishka Beharry, Isaac Mallampati and Vikash Mootoo across the Under-11, 13, 15 and 17 age groups.
Around the Web