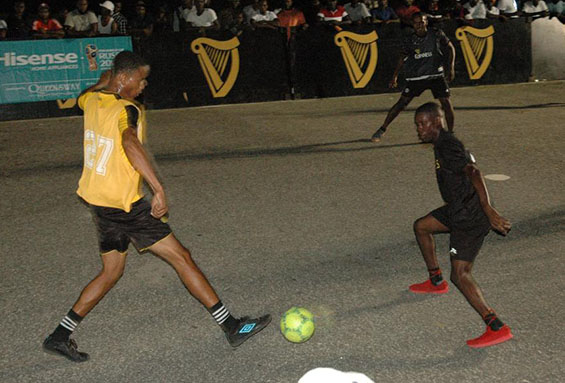 The semi-final and grand finale of the Guinness Cage Streetball Championship has been rescheduled to September 7th at the Haslington Market Tarmac.
This was revealed by Rawle Welch, Director of tournament coordinator Three Peat Promotions. The event was initially billed to conclude tomorrow [Friday August 31st] at the same venue.
"It is unfortunate that the matches had to be shifted from its initial date. We sincerely apologize to the fans who have supported us throughout the duration of the championship, for the inconvenience. However, we now have a better opportunity to promote the matches and we are confident that the fans will come out and support the fixtures," said Welch.
Broad Street will oppose Uprising in the opening semi-final, while Sparta Boss will tackle Leopold Street. The resulting winners will advance to the grand finale, with the losers competing in the third place playoff.
Welch said a large turnout is expected.
"We are expecting a mammoth turnout for two exciting matches. Uprising, the lone remaining entrant from the East Coast are expected to defend home turf against the experienced Broad Street unit in a match that will surely captivate the fans. "On the other hand, the Sparta Boss and Leopold Street encounter is another chapter in their long standing rivalry, with the match a virtual final. Anyone on the night could prevail and feature in the championship match."
The tournament is being organized to forge integration among the participating communities in an effort to create a better understanding among its inhabitants.
 Among the entities in support of the cause are: Banks DIH under its Guinness and Power Wine brands, Clarks footwear giants Chetsons, E- Networks Inc., KSM Investments, Yhip's Bakery, Brass Aluminum & Cast Iron Foundry [BACIF], Ray's Auto Sales, Insurance Brokers Guyana Limited [IGBL], Y.K. Investments, Trophy Stall, Express Shipping, Woodpecker Products, National Sports Commission, 'C' Division of the Guyana Police Force, Jai Signs & Auto Designs, Gaming Authority, Julius Variety Store and C & C Prestigious Styles.
Around the Web