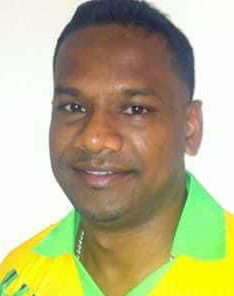 With Guyana recording their fifth consecutive title win at the Cricket West Indies Regional 50 overs tournament yesterday, both Manager Andy Ramnarine and Captain Bhaskar Yadram credited the latest win to the fast bowlers.
Speaking exclusively with Stabroek Sport, Ramnarine said "Our bowling in both formats were outstanding and I think that was our strength this year."
Yadram agreed.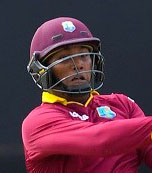 "I think the fast bowlers did great, putting the balls in the right areas and just being consistent, that's why we ended with the most fast bowling points and this also contributed to our win as well…all and all it was a great win for us and a strong come back from us in the one day," he said. "Generally they performed well I am very happy our fast bowlers especially [Joshua] Jones who lifted the mantle and lead the way for us, coming out our leading wicket taker in the 50-overs and Kevlon Anderson in the last match," said Ramnarine adding that while it was disappointing to lose the three-day title, there were some areas that were highlighted as areas that needed to be worked on.
He explained: "Our batting was pretty inconsistent in the three-day tournament and carried over into the limited overs. Many of our main batters did not really click and get big scores, some of them got starts but did not convert… but basically they were not consistent and I think that let us down in the three-day and the game against Trinidad and Tobago in the limited overs."
Yadram said that it is his belief that the batsmen were just battling a lack of confidence and determination along with patience while the fielding was deemed to be "decent."
Ramnarine related that the three-day title loss could also be identified by two things, a wrong call versus Trinidad and Tobago and dropped catches against Barbados
"We lost the three-day tournament and I think that was due to the fact that we had a bad call on the toss of the game against Trinidad and Tobago and it had a lot of overnight rain and moisture on the surface and I think we had a bad start in that game and that definitely really put us on the back foot and they never really get going… we fought hard against Barbados and made a comeback and had a few dropped catches and if we had held the catches we could have won that," he said.
Ramnarine critiqued the 'lengthy tournament' as needing more rest days in between matches. "I think the recovery period between games is a bit short and in a lengthy tournament of such I believe especially for the three day format the player should be given two rest days sometimes they grind for three days and just get one day to recover and it was kind of tough for them," he said.
He also pointed out that the conditions were a bit difficult to read but said that the players adjusted well even with the tournament being reduced to three matches in the longer format which indicated that they had to be on top of their game from the first match.
Ramnarine said there are a lot of positive players in the group who can return and do well. He said Kevlon Anderson, Kevin Umroa, Yeudister Persaud, Adrian Hinds and Junior Sinclair all of whom have another year at this level as some of the bright spots.
He said that he was happy that there were no major injury apart from Yadram, who had an ankle injury and a side strain by Qumar Torrington.
Around the Web