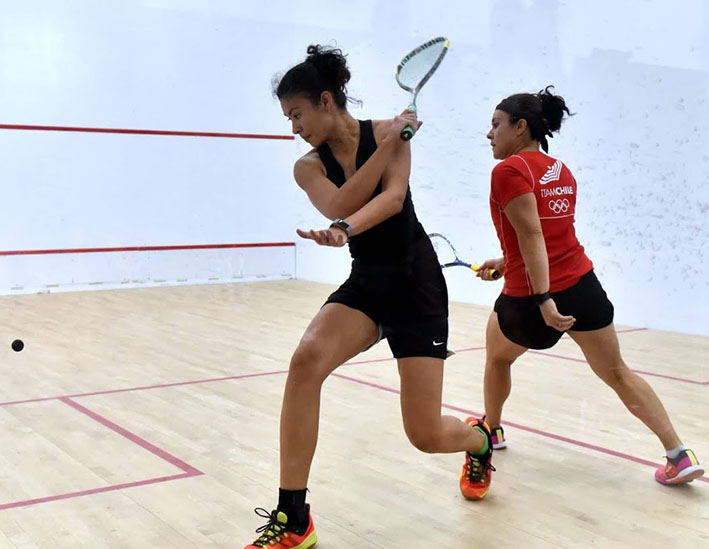 Guyana began their quest to qualify for the 2019 Pan American Games in Peru with a compelling win in the team's female category of the ongoing Pan American qualifiers at the South Sound Squash club in the Cayman Islands, yesterday. 
 The Men's team, however, lost their encounter to Jamaica 3 – 0.
 The opening female matchup saw Guyana brushing aside Ecuador 2-0 to get their campaign off to a winning start. 
 Nicolette Fernandes, in her first competitive match back after coming out of retirement, defeated Maria Paula Moya in straight sets 11-6, 11-5, 11-9. 
 Taylor Fernandes, however, endured a much sterner contest, against Rafaela Albuja, eventually winning 11-6, 11-9, 7-11, 11-6, leaving the services of Mary Fung A Fat unrequired. 
 The Men's team on the other hand, lost to Jamaica 0-3, in their opening match. 
 Sunil Seth, took the court first and lost 6-11, 7-11, 10-12 to Christopher Binnie, while Nyron Joseph took Bruce Burrowes – a player he had previously defeated – to four games, before losing 2-11, 3-11, 11-8, 9-11.
 Jason Khalil lost to Lewis Walters 5-11, 9-11 in the final match. 
 Meanwhile, on Wednesday, Guyana's CAC bronze medallist duo, Taylor Fernandes and Ashley Khalil were defeated in the quarter-finals of the Ladies' doubles segment.  The Guyanese pair lost to Chileans Ana Maria Pinto and Giselle Delgado 11- 5, 11-10.
 Fernandes and Khalil, earlier in the day, came from a set down to defeat the Barbadian pair of Jada Smith – Padmore and Summairra Suleman 10-11, 11-6, 11-5, in their first round encounter.
 On the same day, Nyron Joseph and Mary Fung – A – Fat were defeated by Ricardo Merida and Winifer Bonilla 7-11, 6-11 in the mixed doubles category.
 Jason Khalil and Sunil Seth also suffered a similar fate, going down to the Guatemalan pair of Alejandro Enriquez and Edwin Enriquez 3-11, 4-11.
Around the Web