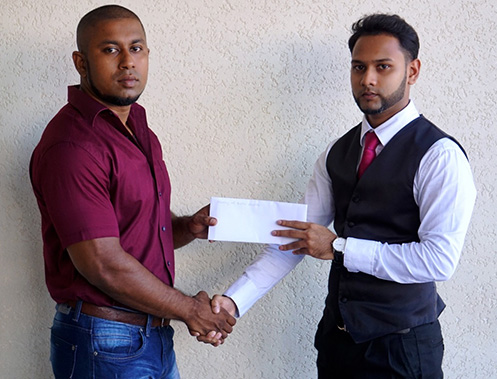 With just over eight weeks to show time, the 'Stage of Champions' is picking up steam, garnering support from corporate entities.
Yesterday, the show's organiser, Videsh Sookram was able to reach sponsorship agreements with KFC and Tower Suites.
During simple ceremonies at their respective offices, representatives of the companies handed over sponsorship cheques to Sookram, who in turn thanked them for the kind gesture of support.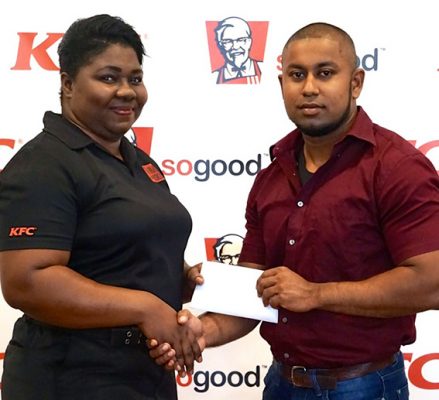 Meanwhile, November 3rd, has been selected by Sookram as the date for the third edition of 'Stage of Champions' billed for the Theatre Guild.
According to Sookram, the show, which attracts international competitors because of the lucrative cash prizes on offer, is set to be of a higher calibre this year than the prior shows.
He stated that along with foreign athletes, he is optimistic that the recently crowned Bodybuilding, Men's physique and Bikini champions, Kerwin Clarke, Emmerson Campbell and Chandini Khan, respectively, will compete on stage.
 Clarke, a five-time national champion, and Khan will be making their debuts if they compete. Campbell, who won the physique segment in 2016 and 2017, will be gunning for a three-peat.
The organizer also made an appeal to other corporate entities for their support.
"We are still looking for sponsors so we can give some more incentives to the athletes, but I am sure the corporate community will support once we start getting the word out there," said Sookram.
Last year, the Bodybuilding, Physique and Bikini champions took home prize monies of $250,000, $100,000 and $100,000, respectively.
The second and third place finishers in Bodybuilding category secured $130,000 and $100,000, while the first and second runners up in the Physique and Bikini competitions pocketed $50,000 and $25,000, respectively.
Around the Web