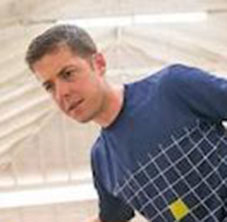 GEORGE TOWN, Cayman Islands,  CMC – Chris Binnie copped silver at the Pan American Squash Championships here on Wednesday night, becoming the first Jamaican to ever do so at the prestigious tournament.
Playing at the South Sound Squash Club, Binnie, the number one Caribbean player, went down in straight sets to the top-seeded Diego Elias of Peru 7-11, 8-11, 5-11.
"It has been an amazing tournament all around, and I appreciate the support I have been getting from everyone at home in Jamaica and the Caribbean squash fraternity, who have been in my corner for all the crucial matches," Binnie said.
"All the hard work I've been putting in is definitely paying off, and I've been able to compete with some of the best players in the world, because I've played my best squash when it's mattered the most."
Binnie's road to the finals was marked by some impressive performances, none more than his victory over the defending champion, Robertino Pezzota of Argentina, 11-3, 11-4, 6-11, 11-2 in the quarter-finals.
The eight-time national and regional champion also stormed back from 0-2 down to beat the higher-ranked Chris Hanson of the United States 3-11, 5-11, 14-12, 11-1, 11-8 – in the semi-finals.
Binnie will now turn his focus to the team competition, where along with Lewis Walters, Bruce Burrowes, and Julian Morrison, they will try to qualify for a spot in the 2019 Pan Am Games, scheduled for next July in Lima, Peru.
Around the Web